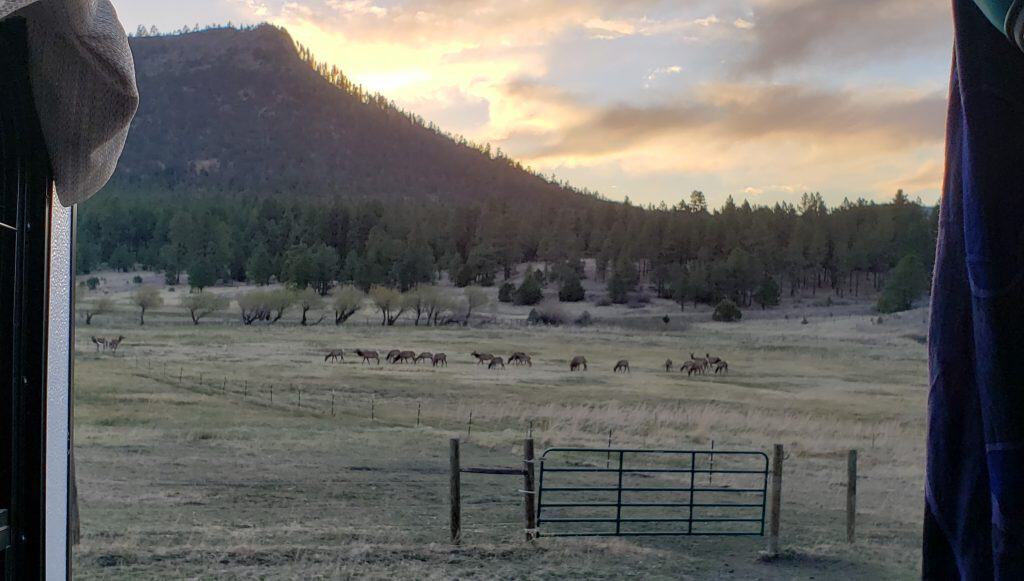 It's a thing called a Barn Visit. I offer them to clients mainly, those I've worked with online through the pandemic. I'm an expensive visitor but on the other hand, it's a private clinic that kind of redefines intensive. Training is so individual that meeting the horse and rider on their own land can be a real advantage for each of us.
The client horse is a Haflinger, a small draft horse who doesn't like to be haltered, can be challenging to lead, and tends to counter-bend. He is also kind, polite, incredibly smart, and if anything, he tries too hard. A bit of a paradox, he's one of those horses better in the saddle than on the ground, which tells us a lot. His foundational training, before my client owned him, isn't quite solid.
We talk about the anxiety he shows in his flank at the four o'clock position, and in his muzzle area. We know part of the puzzle is a history of gastric issues and she is working on that. I'm impressed. My client has eliminated most of the counter-bending brilliantly. We make a plan for the day: She has a new bitless bridle to fit to him and try out. I do just what I always do. I want to return his calming signals and prove that I'm no threat to him either.
Haltering is the heart of so much of what we do with horses; it's when horses surrender their autonomy to us. It's foundational but easy to get complacent about. My client wants to help her horse in a kinder way but he is still a prey animal. As loved as he is, he struggles with people close to his head. We had a slow conversation about his anxiety. We gave him time to soothe himself.
We had two sessions the first day, both went well. Under saddle, he was a bit confused by the lack of a bit and by me beside him, but we walked on and he found his balance. Forward is the miracle cure. We gave him the last word. His calming signals were eloquent as he processed his day.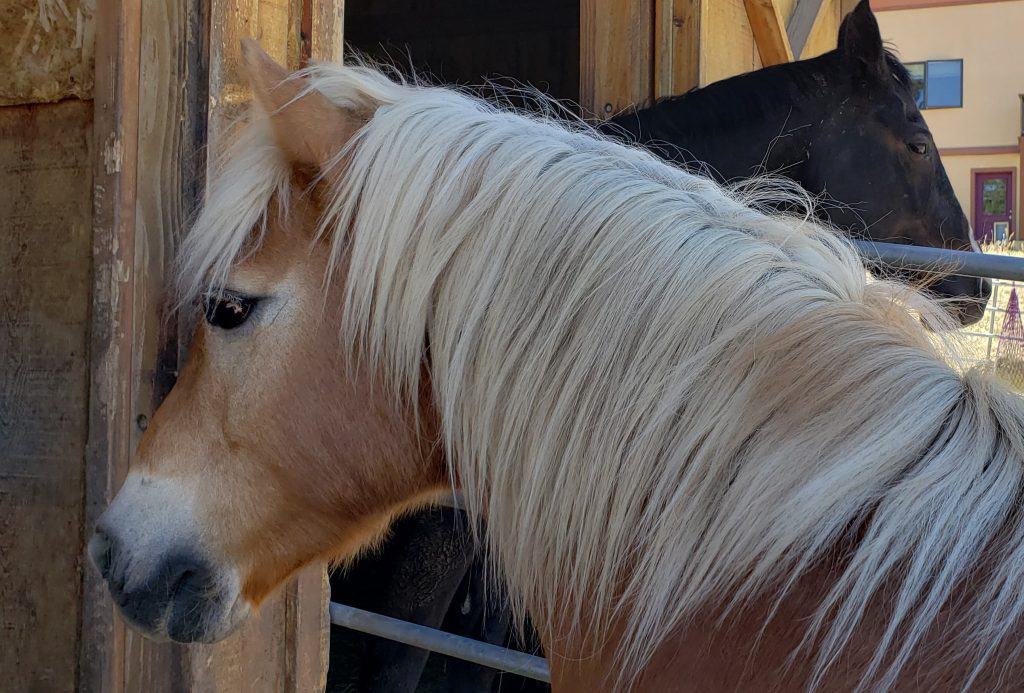 This is the moment I'll remember: The gelding was passively resistant, not bad but worried and reluctant. After answering a few of his calming signals affirmatively, giving him time to think, he turned to me and offered to take the halter. His eye was steady and calm, he volunteered three times. Moments like that last forever.
Mister, my good dog, and I had dinner in the Rollin' Rancho down by the barn. I sipped some wine while watching the sunset, and a herd of elk wandered up the meadow, grazing the pasture. I love my job.
The alarm went off at 4 am but I was already awake, thinking about writing. Mister is a late riser, so he rolled belly-up and sighed. Sometimes relationships work that way. I made my coffee and got to it, writing until a 6 am online lesson with a client in Sweden where it's the afternoon.
This time it's a sweet young draft horse who had been asked to think a little quicker than he wanted to and my client has slowed it all down. She shares a series of videos and I give some input and ideas going forward. In the last video, she tried leading him from behind in a neck-ring with his head totally free. The horse's movement with no halter is stark and dramatic. So much freer, the horse lifts his shoulder and the first stride out is a huge soft step, his neck long and his head naturally on the vertical. My client's done good work, he wears his new confidence with softness.
Both horses share anxiety about their heads, but it's always true. How we let horses know we are predators is by over-managing their heads on the ground and in the saddle, destroying their trust, and at the same time, giving ourselves a false sense of security. Calming signals fill that gap. Horses are absolutely intelligent enough to know that we can leverage them by pulling them off balance, and so when they submit to a halter or bridle, it's a pretty sacred moment.
My text notification dings. "Anna, call me before you go outside." Huh?
Then, "Anna, the wolves killed an elk in our pasture so stay close to the barn if you take Mister out for a walk. Game and Fish is coming to remove the carcass shortly. This may change our plans."
This is recent, it's happened pretty close by, and the wolf had passed yards from my trailer. I don't wake up Mister to tell him because like I say, he sleeps in. I slip outside and we go up on the house deck to survey the scene. Wolves had pushed a small elk against the perimeter fence and brought her down.
As we're standing there the wolf comes back for a second pass at the carcass. He's magnificent, black with a light-frosted silver sheen. His mask is bloody red. As massive as a German Shepherd but he leaps a fence as light as a rabbit. You can't mistake him for anything else. Coyotes have a way of slithering and stalking but this predator carries himself differently. You can see him push off from his haunches and launch himself across the ground, fit and strong. So handsome, this guy stands on all fours and watches us watch him. He doesn't look away.
The Arizona Game and Fish Department has been actively involved tracking packs in the area and they quickly arrive. Not everyone likes wolves, so it's touchy, but they are friendly and informative. They pull into the pasture and I got Mister out of the Rollin' Rancho and I walked him a few steps down the road toward where they were picking up the carcass. We weren't at all close but he jumped back and forth and lifted his nose high in the air. He didn't make a sound.
They use a winch to load the small elk carcass on the back of the truck. The wolves brought the elk down from behind, later I'll see white fur at the scene, but now, from this distance, I can see a huge red circle where the wolves had begun to disembowel the elk… at four o'clock on its flank. Horses know that spot.
We look up the meadow and the first wolf is heading back again, with two wolves following. The Game and Fish people shoot a couple of rounds into the air, hoping to frighten the wolves back toward their usual less-populated territory. The sky is filled with vultures floating in arcs over the site, as if tracing the circle of life. Nature is beautiful even now.
And there's still a hole in the fence, one of the broken posts was thrown into the road. It feels good to drive in a t-post, just to right something. My client and I work together quickly; she says it's now more of a "psychological" fence. We've done a temporary job, finished with twine, as one does. It's an unusual use of my skills but our day is off the rails and we don't know how the horses will be.
We have just had a visceral lesson in the predator/prey dynamic. We can't be complacent today even if we wanted to. We think about canceling the session but decided to go just step-by-step slowly. We'll listen to her horse's calming signals and let him tell us.
The horses and donkeys should have been turned out by now, but they have been spectating all morning. Her horse lets us know it's a brand new day. He's bright and alert, interested in us, and calm. It's as if the events of yesterday were bigger than those of the morning. It was just us humans who were reeling at the blood and carnage.
We'd spent the last day talking about how deep his fear of controlling his head is, how restricted he felt in halters and bridles. He seemed different after a night to process yesterday's lesson in patience. Perhaps he'd gained some confidence. Not entirely solid, but he was leading us from behind on this one. My client trusted the bridle, and so did her good gelding. They had a brief but breathtakingly beautiful ride.
It was a barn visit we didn't expect and all the lessons were valuable.
I go meet Mister for supper and then he leans into a nap before bed and I reflect on my day. The elk didn't return but I'm full of awe for horses who find a way to trust us, fear always in their minds as their nature demands. Horsewomen have a special understanding of both sides, predator and prey. Not denying either, we work for the place in between where we can be partners by choice.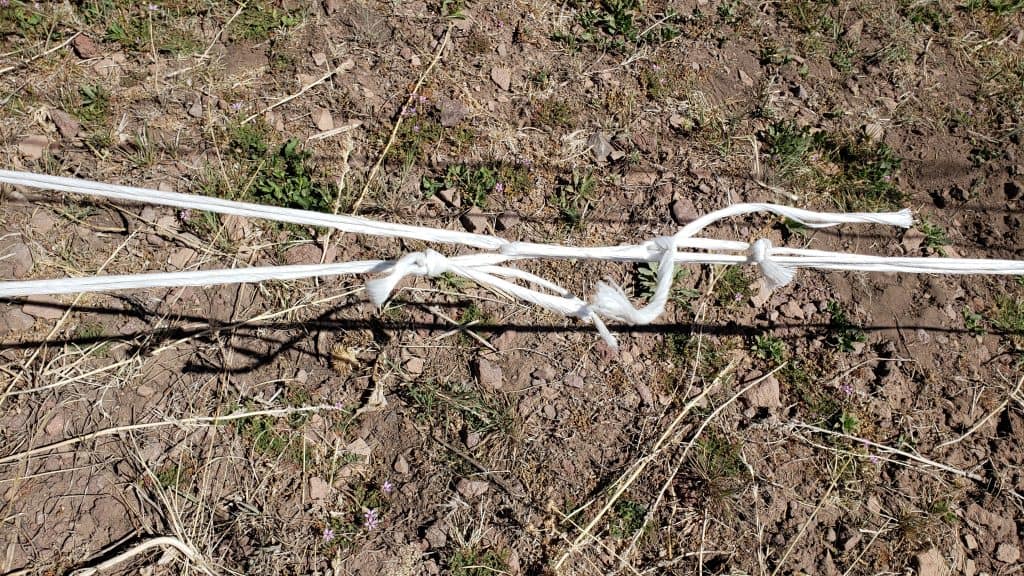 …
Anna Blake, Relaxed & Forward, now scheduling 2022 clinics and barn visits. Information here.
Want more? Become a "Barnie." Subscribe to our online training group with training videos, interactive sharing, audio blogs, live chats with Anna, and join the most supportive group of like-minded horsepeople anywhere.
Anna teaches ongoing courses like Calming Signals, Affirmative Training, and more at The Barn School, as well as virtual clinics and our infamous Happy Hour. Everyone's welcome.
Visit annablake.com to find archived blogs, purchase signed books, schedule a live consultation, subscribe for email delivery of this blog, or ask a question about the art and science of working with horses.
Affirmative training is the fine art of saying yes.