"I'm wondering if you could address animals and grief in one of your columns. We've lost a horse and a dog in the last two months. The horse that was a pasture mate is still occasionally calling for Jake. Lily is really struggling with the loss of Essie Lou. I now see the value of letting an animal see and smell the body of their partner. The depth of Lily's confusion and sorrow is just heartbreaking."
First, my condolences to anyone who has suffered the loss of a beloved. I want to talk about this touchy subject, and there is never a good time, so to the friend who sent me this note, I hope this helps in some way. Even as I know it won't change a thing.
Warning: I'm sharing somewhat rational thoughts about irrational loss. 
When I met Essie Lou, she was the Good Dog, adult and polite, confident in her position, and kind beyond reason. Lilly was a wild puppy who had a bit of time-share on the older dog's brain until she grew into herself. Older dogs can give a pup a good launch in life, but when they die, there is a loss of confidence which might have really been Essie Lou's all along. Lily has to be the Good Dog now, with big paws to fill. She's lost a big sister/mentor and a friend. Lost as in the last thing a herding dog should do. And for now, she's an only dog. We can say Lily is mourning but it might be separation anxiety. Confusion and sadness for her aloneness. Too pragmatic?
Just the previous month, my friends lost Jake, their longtime companion, to colic at 24. He was a perfect horse like they all are. Jake's pasture mate remembers him, of course, but is it mourning or separation anxiety. Changes in the herd, horses coming or going, always create stress. Horses and dogs don't like change any more than we do. Is it more than the usual stress of bringing a new horse into the pasture? I'm not saying horses don't mourn, but does our loss color how we read the others in the herd, if it's even possible to see through our tears? Is that too cold? 
Maybe the problem is we think separation anxiety is merely a training issue.
My friend's losses were sudden and unexpected. Emergency losses are quick and horrific. Old-age euthanizing comes like a slow train with months of hard questions but in the end, are quick and horrific. And also a bit easier to accept. Is there something to learn that would help us with the sudden deaths?
When my Grandfather Horse was euthanized, I thought we would all die with him. The herd took a short look at his body and went back to lunch. His goat fell asleep by his back, as I sat by his head and had a good think about who was mourning and who wasn't. My Grandfather Horse had been frail for so long, I'd seen other herd members act like caregivers, feeling stress and giving calming signals of all sorts. In some ways, they shared his pain. Now they seemed almost relieved. Do horses get compassion fatigue? Last year, our senile old dog was euthanized and the other dogs showed so much relief that I felt guilty for waiting too long. 
Animals have emotions similar to ours, but without the same brain functions, by definition, they do not experience what we do. For all of our similarities, there are as many differences. 
When my younger gelding was four, I bought his dam and brought her home. They recognized each other but had no interest. It wasn't a tearful homecoming. No one thanked me.
Rather than overwhelming my herd with my own emotions, I try to listen to them. Sometimes there's a profound relief when a herd member or a pack member is no longer in pain. It's natural that their pain impacts everybody in the herd but if it grows gradually that we might not admit to seeing it. But when their pain is gone, everyone lightens. Maybe animals, living more in their bodies than in their minds, move through grief in a more functional way. Maybe not thinking about the future gives them a simpler perspective. 
Humans juggle these three over-ripe tomatoes: mourning and relief and guilt. Then we remember childhood dogs hit by cars and horses sent to slaughter by our fathers. The pain is still there. And none of us is getting younger. We are caregivers, or ex-caregivers to our parents, spouses, and dear friends. We worry about death and have anticipatory grieving. Once we get to a certain age, if someone hasn't died lately, we know someone will soon. And then we think we hear Old Yeller barking out back. It's hopeless. We are bottomless pits of mourning, relief, and guilt counterbalanced by this one thing. We also love.
Humans can romanticize death by dressing it up and giving it the imaginary power to take something away, even as we know we will never let go. Mourning is the period of time we figure that out.
I don't want to confuse an animal's mourning for my own or overshadow their feelings with my loud wet tears. Is anxiousness why they get quiet and seem sad? Are they pulling inside, nervous about my emotions? We do know they get over loss faster than we do. Why does it matter? 
Animals read our primary-color emotions like anger, happiness, fear, and surprise. The other designer-mauve feelings, like ambivalence, pity, or compassion, are more confusing and might just seem like anxiety to them. Anxiety is that catch-all place for things horses and dogs don't understand. Of course, it makes them quiet. Half-closed eyes don't mean the same thing to them as they do to us.
Can we tell where our feelings stop and our animal's feelings begin? Rather than flood them, we could try to understand what it means to be a dog. And if that isn't challenging enough, to understand what it means to be a flight animal who feels weakness.
The strange thing about a lingering death is that the world tilts on its side until the worst thing possible begins to look like a gift. Seen from that side, death is a sort of blessing. A sweet escape from a long slow debilitation isn't the worst thing, but that's human thinking and a question that never crosses their minds.
I confess I've shed an ocean of tears onto the shoulders of generations of slightly nervous horses and dogs. Did I use them as emotional dartboards? Probably but I'm not proud of it. The more I learn about animals, the more respect I have for their feelings. Working with rescues especially, I see so much practical resilience. If I could, I would take all of those tears and emotions I threw around back again. I would cry and commiserate less. I would praise more.
And I'd keep my eye on the bigger truth. One day, Lily will give mature guidance to an excitable pup. She is Essie Lou's legacy.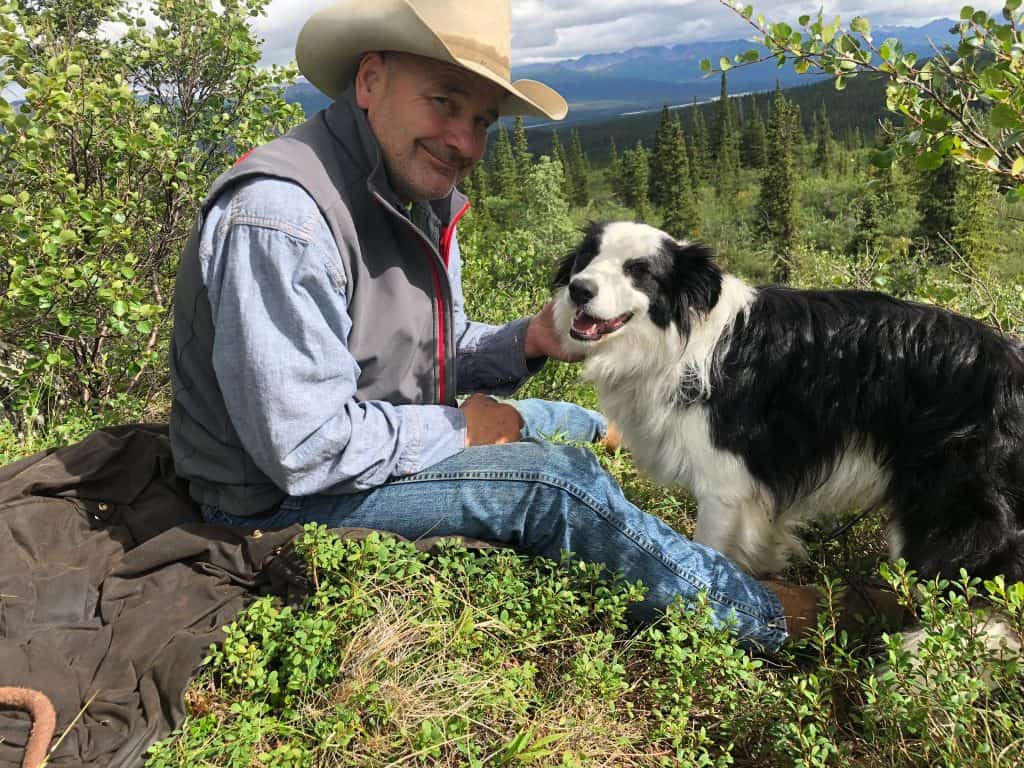 …
Anna Blake, Relaxed & Forward
Want more? Become a "Barnie." Subscribe to our online training group with training videos, interactive sharing, audio blogs, live chats with Anna, and join the most supportive group of like-minded horsepeople anywhere.
Anna teaches ongoing courses like Calming Signals, Affirmative Training, and more at The Barn School, as well as virtual clinics and our infamous Happy Hour. Everyone's welcome.
Visit annablake.com to find archived blogs, purchase signed books, schedule a live consultation, subscribe for email delivery of this blog, or ask a question about the art and science of working with horses.
Affirmative training is the fine art of saying yes.