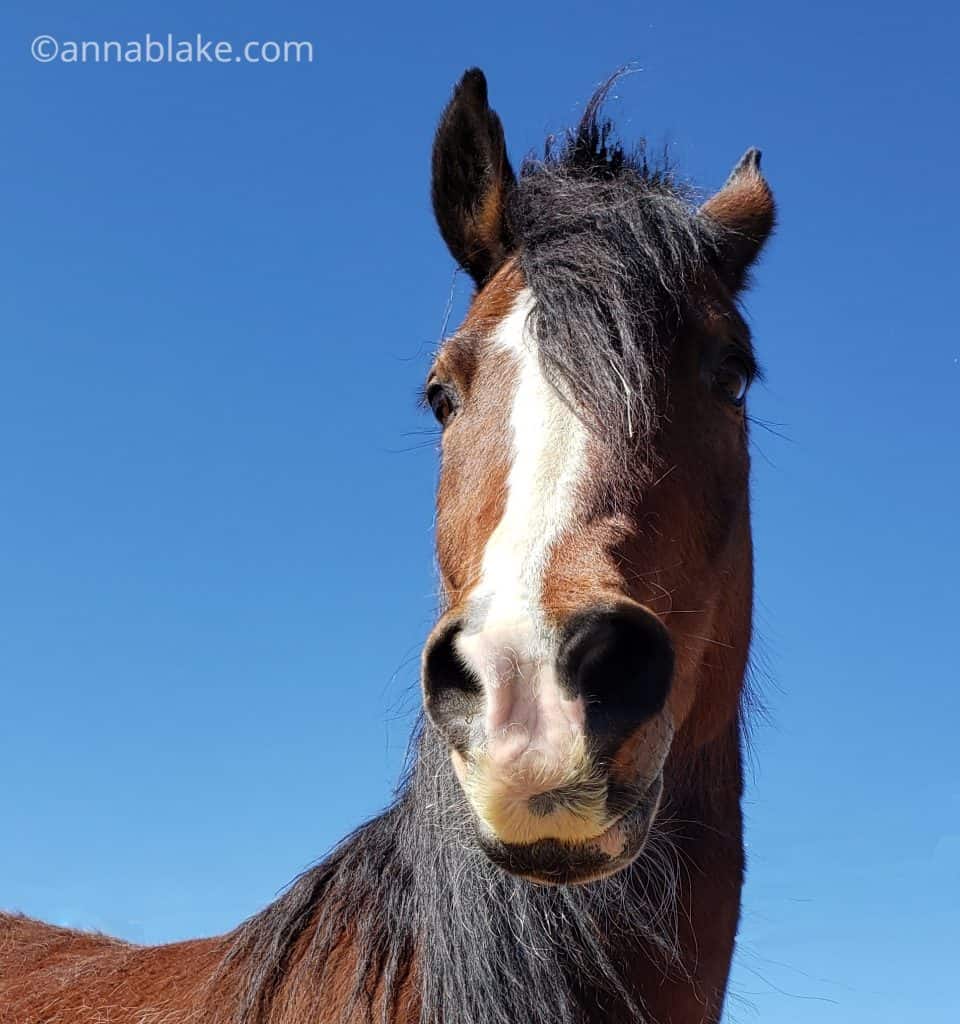 There are two kinds of spooking. This is the first: It was midmorning on the ranch, and we were riding out. My friend was on the best trail horse in the world, and they were helping me and my young gelding gain confidence. We usually walked through an especially beautiful ravine where the plant growth was stirrup high because it seemed Annie, that good trail mare, could call the butterflies in. One day it happened. A wild turkey fell out of a tree. Maybe it tried to fly, or maybe the bird had an unplanned dismount, but it landed on Annie's head and turkeys have a decent wingspan. It flapped hard enough for a contagious response from all of us. Humans had no unplanned dismounts that day, but there was some dancing about, and to be honest, it was more alarming to me than to my horse. What a ruckus! The next time out, I noticed myself looking up more often for fear of an attack by air. I developed Chicken Little paranoia. Remember, it is not paranoia if someone is really after you.
The incident stuck in my mind all these years since because that was when it dawned on me that for all our practice with inclines and obstacles, I didn't know how to train for the possibility of flapping things falling out of the sky onto my horse. We'd worked through plastic bags and mud puddles, but how do you prepare for a legitimate spook; random chaos that is both concrete and real, yet totally unpredictable?
The second kind of spooking can be equally energetic, but it seems there is nothing there or it's something your horse seen a thousand times. Another young horse of mine back in the day would spook at dressage letters, in our home arena. They'd always been there but just like when Sesame Street would pick a letter for an episode, my horse randomly picked a letter and spooked at it for a week until another letter caught his eye. It was strangely consistent yet never with a visible reason. What is that about? How can I train for the fresh hell of our ordinary surroundings?
Just because there is no visible turkey, it doesn't mean nothing is nothing going on. A spook can be a cumulative result of layered stresses. Possible issues could be physical like ulcers, bad saddle fit, body soreness, and ovarian cysts in mares. Spooking in a horse who usually doesn't could even be early symptoms of an upcoming health challenge.
Then there are big-picture stressors like being bullied in the herd, extreme weather changes, living isolated in a stall, or struggling with exhaustion. Being a new horse or having had a recent move is stressful. As horses age, there are joint changes, arthritis, and hoof issues, as well as the knowledge as they get more frail, that they feel more vulnerable. Think of things like this as contributing factors to a stack of reasons a horse might lose confidence.
Perhaps the most notable stressor is harsh or fear-based training, the poor use of spurs or whips, and accelerating cues create stress. If the goal is to control the horse so much that the horse shuts down, be aware it won't work forever.
Some of us appear to ride with horse-crazy bravado, making jokes about our horse killing us. We like the adrenaline rush. There is still an involuntary response in our nervous system. We might feel bold but our nervous system is on high alert. Others become defensive, but thinking we can control unknown chaos only makes us ride like coyotes, with tense hands and shallow breathing we let the horse know he has another big reason to be nervous. We say horses read our fear but it's more fair to say they carry these erratic emotions on top of their own prey senses. 
None of these reasons are actual monsters hiding in the arena corner or behind a tree, but they exist and add up until the horse, trying to be stoic and get along, just can't hold it together any longer. In other words, it might not be an easily identifiable overbearing issue, but rather avoiding the anxiety, belittling what the horse is trying to communicate, lean in and be curious about ways to help your horse rather than push him farther away. 
Could we change our thoughts about spooking? Instead of accusing the environment, consider if there could be a good side to spooking. I notice lots of times, a small spook seems to immediately improve the ride; that it releases emotion and steadies a horse. A spook might be almost like a sneeze, a full-body calming signal, like a neck stretch or poll release with a bit more energy. A spook might be a valuable message we miss if we're busy looking for the cause in the branches of a tree. 
We can't train a defense for either kind of spook. There will always be a surprise wild turkey equivalency, real or internalized, and horses will always believe every moment is a life-and-death situation. Spooking is a natural flight response; it's survival. What we can train is our reaction. We can teach ourselves to feel when our horses are getting near a threshold and rather than flinch, praise them to build confidence. It's counterintuitive for a predator to face fear with a smile, but horses need our help to change the dynamic.
 We must learn to not spook at our horse's spooks, and instead of punishing them and searching for the external source, check our internal situation. Did we clamp our legs or inhale and soften? Both are cues. Horses are internally hardwired to spook, but we aren't horses, we can breathe ourselves down, and in that moment, cue our horses to do the same. They need the reminder as much as we do. 
Start here:
Monitor yourself for tension before addressing it in your horse.
Breathe, cue quietly and consistently. Ask for simple transitions.
Use obstacles (even dressage letters) to train affirmatively, giving your horse time to process.
Experiment with ways to engage his mind, curiosity becomes courage.
Practice Leading from Behind, and let your horse gain the confidence to take you for a walk.
If you feel tension growing, offer your horse calming signals to soothe himself. Exhale, let him look away, stretch, graze a moment.
Stay engaged, give your horse something affirmative to think about, and praise his efforts when shadows rise. Stay affirmative when you both need it most.
Value building peace more than obedience. A relaxed horse is more likely to stay sound and are safer to ride.
Most of all, with a trusting rider, a calm confident horse spooks less often. 
The truth is there is a reason horses spook every time. Sometimes we blame the turkey, but the invisible reasons might matter the most. Fighting a horse's fear response makes it grow, but by releasing nagging stress we're creating safety for our horses. In this light, spooking might be something to make friends with.
Anna Blake, Relaxed & Forward
Want more? Become a "Barnie." Subscribe to our online training group with training videos, audio blogs, daily quotes, free participation in "group lessons", and live chats with Anna. Become part of the most supportive group of like-minded horsepeople anywhere.
Anna teaches ongoing courses like Calming Signals, Affirmative Training, and more at The Barn School, as well as virtual clinics and our infamous Happy Hour. Everyone's welcome.
Visit annablake.com to find archived blogs, purchase signed books, schedule a live consultation, subscribe for email delivery of this blog, or ask a question about the art and science of working with horses.
Affirmative training is the fine art of saying yes.