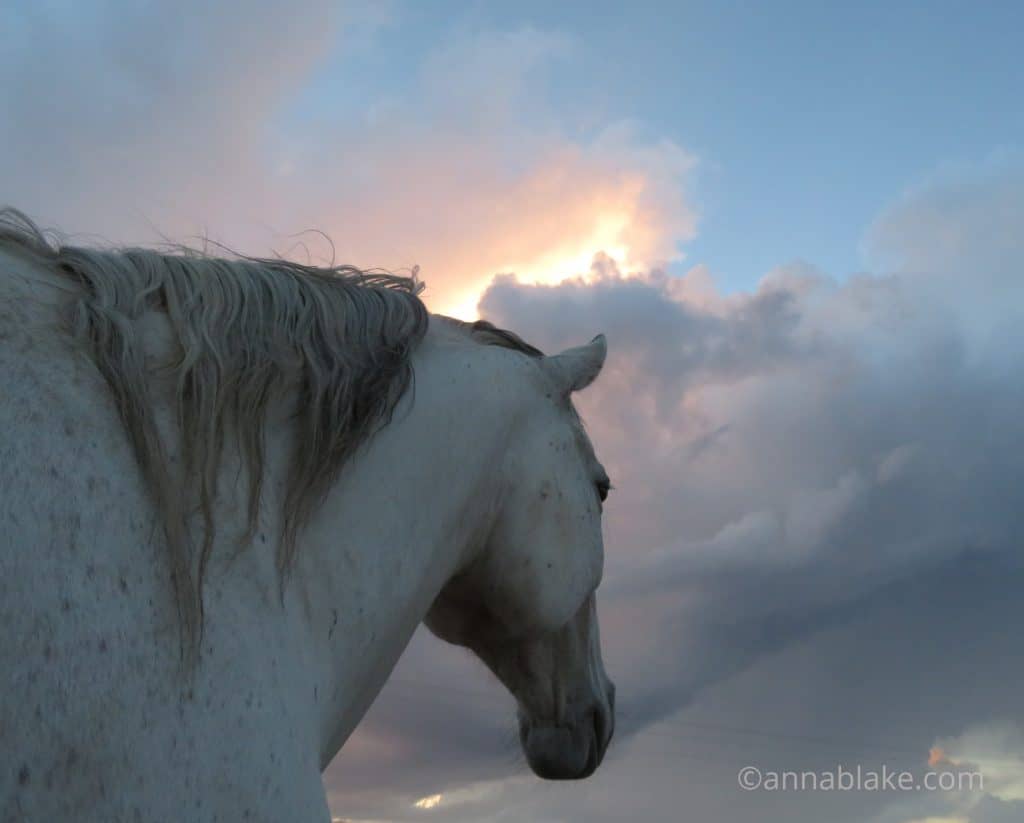 Gray Mare memories: It was one of the first clinics I ever attended. The clinician was famous; I signed up for three fifty-minute lessons that came to more than I paid for my horse. It was a huge amount of money to me. The night before the clinic was to start, we all went to dinner together. The Clinician, who smoked and talked in an accent, explained that if a person didn't get lessons as a kid, it was certainly too late to learn to ride as an adult. Did I hear that right? We were all around thirty and so shocked that he'd said it aloud, that we just looked at each other. I bit my tongue, and nearly swallowed it choking on my outrage. I'd show him. 
The next day was our first lesson. I groomed my horse to a shine, oiled my tack, and even put on the white saddle pad and polo wraps. I spent less time on myself but wore my tall boots, full-seat breeches, and my good helmet. We entered the arena and halted, waiting for instructions. The clinician was talking to the auditors, smoking, and being charming and foreign. Americans are suckers for an accent. I don't remember when I stopped breathing, but finally the clinician came over, exhaled some smoke, and baby talked to my horse, who nearly spun out from under me. I'm not sure if it was the smoke, the baby talk, my collapsed lungs, or maybe all three. I tried my best but (here come the excuses) I was embarrassed and I couldn't hear well and it was scary riding in front of the auditors. On the high side, I don't think I blacked out. The clinician dismissed me ten minutes early. My horse and I stumbled back to our stall and I cried.
On the second day, I put on the white saddle pad and polo wraps; I'd washed them overnight. Then I tidied my red eyes, took a deep breath, and rode into the arena again. My horse didn't spook this time, but the clinician also didn't greet us as kindly. We got pretty much the same lesson as the day before, but full disclosure, I was so nervous that I barely remember the lesson. I tried hard but then I remembered that he'd told me I was too old to learn and I was starting to believe him. We weren't better than the previous day and were dismissed early again. When we got back to the stall this time, I was mad. Too mad to sleep that night. 
For our third and last ride, I had a change of attitude. My horse was still clean enough. I pulled out a purple patterned saddle pad and purple polo wraps. I dusted my tall boots and wore a purple polo shirt. Dressage riders enjoy dressing like their horses. As I rode over to the clinician, I noticed I wasn't so awestruck. I didn't stammer and I held his eye.
"Sir, my horse is small but very athletic. Could you give me some advice about how I might use his strengths to my advantage in competition?" 
In the almost forty years since that day, I've seen about every side of a clinic. I've lost count of the number I've attended or audited, keeping notes after each one. Eventually, I organized clinics, attending to the details needed. I competed but I also planned shows for my dressage chapter. I've worked in the show office and I've scribed for judges as often as I could. I've seen the horse world from all perspectives. It's easy to complain, to judge the unfamiliar discipline unkindly, especially from a chair that can't buck you off.
Do you know enough to judge? Is the horse inexperienced, is this his first go? Is the rider just learning the thing you criticize harshly? There's a huge learning arc with horses and if you do it right, it never stops. One moment in time shouldn't define us or our horses.
Some riders are defensive. "I don't compete!" they confirm, "I just go to clinics." As if there is a difference. It's all the expense and stress, there's an audience of auditors (something we rarely had at shows), and most of all, you're riding for someone whose opinion you care about. How is it different? Either way, it's valuable to get out with your horse for the weekend and see who you both are off property. We can be our own worst judges and horses would like us to quiet the railbirds in our heads.
Naturally, there will be growing pains. Sometimes we haul to the site, but when we get there, the horse who comes out of the trailer is one you've ever seen before, hooves unable to reach the ground and twice as tall as the one you loaded. The first day is usually a little rough; a strange trainer, a strange location, a strange person inside your breeches. You want everyone to know how your horse behaves at home, but the clinician can only work with the horse in front of them. We know it's unusual behavior, but at least it's happening when we can be of some help. Meanwhile, you wish you'd never left home. Assuming there is no actual abuse, please stick it out.
Shows used to give a "Most Improved" award and I've won my share. You gotta have a lousy start to land one. It's the best feeling you can have with a horse, to transform a hard ride. Keep breathing. Things have to come apart so they can come back together better.
My best tip for all of the crazy things that are out of our control, take care of the things you can. If you don't haul often, take some practice runs. Make a dorky list of everything you need. Load the trailer the week before. Plan to leave hours early. Give your horse some gastric support (supplement) before hauling every single time, as well as a hay bag.
Traveling is stressful, so keep it simple. Let the horse must be your only priority and mean it. If a fire-breathing dragon comes off the trailer, put a big smile on your face and say, "Good Boy!" First of all, you can't scare a horse out of being scared. Secondly, it throws people off guard. Take my word, someone that crazy is capable of anything.
How did the last lesson go at that long ago clinic? For the first time, the clinician gave me a genuine smile as he told me what our strengths were. It was as if he'd been wandering, but he zeroed in now. The canter was fine, he said, but our trot needed work. I had no awareness of anyone but the three of us. His advice was spot on and the lesson was intense and affirming. But the real lesson I learned was to ask for what I want. Clinicians aren't psychic. They can need a bit of direction, too.
If you live long enough, it all circles back, now I'm the clinician. It's like being a drive-by shooter, stirring things up, and then gone. You get to meet so many more horses and riders than training locally, your learning curve is continually astounding. You also get blamed sometimes if someone has a challenging day. In that way, it's like any customer service job.
At a recent clinic, a woman entered the arena with a halting stride. She was a long-time reader and we'd worked together online. Are those tears coming? How can she be nervous, it's just me! But then time blurred and it was me with those twisted feelings. If my job title means too much, it will damage the lesson. Awkwardly, I smile and tell her to snap out of it. We laugh, and her horse blows. Then it's my favorite thing; just a horse, a rider, and me.
…
Anna Blake, Relaxed & Forward
Want more? Become a "Barnie." Subscribe to our online training group with training videos, audio blogs, daily quotes, free participation in "group lessons", and live chats with Anna. Become part of the most supportive group of like-minded horsepeople anywhere.
Anna teaches ongoing courses like Calming Signals, Affirmative Training, and more at The Barn School, as well as virtual clinics and our infamous Happy Hour. Everyone's welcome.
Visit annablake.com to find archived blogs, purchase signed books, schedule a live consultation, subscribe for email delivery of this blog, or ask a question about the art and science of working with horses.
Affirmative training is the fine art of saying yes.