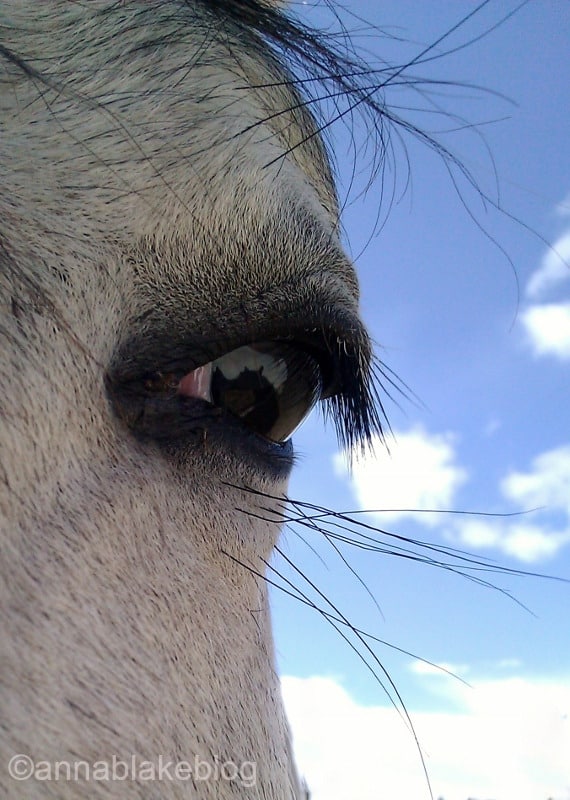 Sometimes I find myself standing in front of people talking about horses' feelings. I'm almost embarrassed; I was raised to be tough. Yes, I cite scientific research. Inside, I still hear my father curse me for spoiling horses, but most people didn't think horses had feelings in his day. Except I think part of us always knew, even if it was inconvenient to have to care. We were farmers trying to scratch out a living. Our lives weren't much easier than our animals'.
Other times I wonder how long I will keep posting these essays about calming signals. Understanding equine body language has taken over my life. It's become my primary language and I just write to keep a thin grip on being a human animal. Then I cock a hip and give my poll a shake.
A few years ago, a well-known trainer messaged me about a calming signal essay he'd seen, saying it was interesting while calling it woo-woo. 
woo-woo   

/ˈwo͞oˌwo͞o/   

DEROGATORY

•

INFORMAL

noun  1.

unconventional beliefs regarded as having little or no scientific basis, especially those relating to spirituality, mysticism, or alternative medicine.
"some kind of metaphysical woo-woo"
Is that what he meant to say? It couldn't be a compliment. Later a clicker trainer said she thought I put too much importance on how horses felt. She thought it slowed the training process. She was right about that. Building honest trust does take more time but my career wasn't based on starting colts but rather on rehabbing troubled horses. Listening to them opened a door I couldn't close again.
Was I too much of a bliss ninny, was I too sensitive? Compared to a horse? Or a cowgirl trope? Besides, I'm a party pooper when it comes to anthropomorphizing horses. I hate humanizing them because horses are so much more interesting than people. Dang. I said it.
I grew up like you. I loved horses and was told to be violent to gain their respect. I disobeyed and got in trouble. I'm sure sometimes the horses were in pain and I didn't know. I'm no saint, back in the day, I got frustrated with my horses. I got louder and more insistent about having my way. It didn't work. Not once. 
Harsh treatment of animals is interwoven in our culture. We love cowboy culture and rodeos and shows like Yellowstone, but the same is true in English riding. We romanticize the domination horses, hands jerking reins, spurs gouging flanks. Our eyes are so used to seeing cruelty that we barely notice it. Worse than that, if we want to be taken seriously in this culture, we tough it out. If you aren't in an ambulance after a fall, you climb back on. We must be as hard on ourselves as we are horses. 
On the other extreme are those who think riding any horse is cruel and horses should all be used as healers and mystics. Or somehow returned to the wild, as if thousands aren't standing in catch pens now. They seem to think humans have no option other than cruelty when it comes to horse ownership. The word 'ownership' sets them off as if it means anything other than who buys their hay. As if a word could possibly define the immense possibility between a horse and a human.
Are you like me? We don't belong in either camp but at the same time, we're no fun anymore. We can't watch the Triple Crown races and we lived for them as teenagers. We can't go to rodeos and pretend to not see the dark side. When western movies use the trope of horsemanship being a symbol of manhood, we wrinkle our noses and care about the horse more than the cowboy. 
Part of the problem with women and domination training is that we never really buy the idea. We do it because we were told it was the only way, but then we do it half-heartedly, which confuses horses. We send a double message. But we aren't quitters, so we keep trying.
Instead, we educate ourselves. We learn that herd dynamics are different from what we were taught, and in the wild, horses live cooperatively. We read about studies like the Cambridge Declaration on Consciousness and then delve into more brain function research. We get a deeper understanding of what it means to be a prey animal. And we totally geek out on one of the few things we have in common with horses: When we're born, we begin to build neurons in our brains, just like horses do. The first things we learn are foundational to who we become. In the case of horses, their first trainers set a tone for how they see the world, with fear or confidence. 
Intimidation or fear-based training works on young horses and kids. It can make a horse look obedient and a rider look cool. In time, the horse comes apart and we doubt ourselves. Are you working with a horse someone else has injured, mentally or physically, in training?
Somehow it seems many horses need to be rehabbed but we don't look at why. Are we starting horses using out-of-date methods and then selling them before they come apart? And since humans don't like to be corrected any more than horses do, telling a trainer how to train doesn't go over well. Instead, disposing of troubled horses and buying new ones is what created our bustling but failing horse industry. 
Oh, the irony! Horses are stuck in their memory of their first trainer… and so are we. Relearning is harder than learning in the first place. It's a dysfunctional oneness we share with horses, both of us struggling to overcome fear-based training methods that we were taught when we were younger, both of us hearing voices in our heads name-calling us for our weakness.
When will we learn that resolving the horse's anxiety is better than creating more anxiety? Or that punishing fear doesn't alleviate it? (Says the woman who was taught to be more threatening than whatever scared her horse.) But shouldn't we all have a responsibility to do better once we know more?
Eventually, the idea occurs that rather than changing a horse's behavior, it might be more important to understand it. We speak up, knowing it's unpopular but we can't stand seeing horses jerked around or run to lameness or so shut down that they play dead. Just because cruelty has been normalized doesn't mean it's okay.
The evolution revolution begins right where we are, novice or longtimer. Here's the crazy part. There are so many more of us than we know; kind and understanding humans exercising patience and the ability to re-learn. Maybe we feel like a minority because admitting we were wrong doesn't seem heroic to anyone but horses.
…
Anna Blake, Relaxed & Forward, now scheduling 2022 clinics and barn visits. Information here.
Want more? Become a "Barnie." Subscribe to our online training group with training videos, interactive sharing, audio blogs, live chats with Anna, and join the most supportive group of like-minded horsepeople anywhere.
Anna teaches ongoing courses like Calming Signals, Affirmative Training, and more at The Barn School, as well as virtual clinics and our infamous Happy Hour. Everyone's welcome.
Visit annablake.com to find archived blogs, purchase signed books, schedule a live consultation, subscribe for email delivery of this blog, or ask a question about the art and science of working with horses.
Affirmative training is the fine art of saying yes.