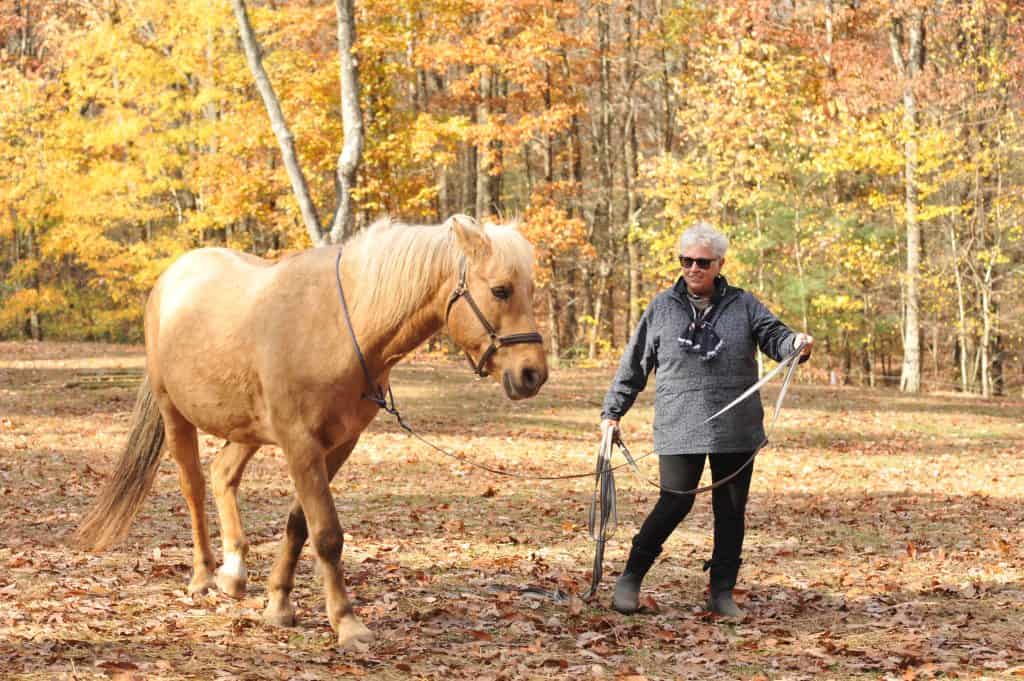 It was at the dark ages of VHS, long before the dawn of cyberspace, and I'd heard there was such a thing as a horse training DVD. A few barn friends and I watched one, and were horrified at the techniques and laughed at the backward sales pitch. But the only reason that was possible was I'd accidentally met a horsewoman who invited me to visit her barn. I moved my horse there to work with that trainer a few years before and was doing well with my horses. And certainly, not all DVDs were bad. If you knew about horses, it was pretty easy to steer your way. 
Here is the problem. The real horse world can be difficult to find if someone is new to horses. It isn't like there's a giant flashing sign that says, "Enter Here!" Some folks were naive, and others were in trouble with their horses and desperate for a solution. Some people managed to make good choices through dumb luck as I did, but lots of people bought the snake oil.
The video starts with an inspiring intro and then a demonstration of something. You watch, it looks easy enough, but your horse says no. One minute into the video and your horse is off the rails. But we aren't quitters, so we try harder, get louder, and confuse the horse more. Or in another example, the horse does the thing demonstrated and it feels so good to get it right that we drill it until the horse gets too anxious or too shut down. The video didn't say how often to repeat and now the horse's behavior becomes a bit compulsive. Worst are the fear-based domination videos that make abuse seem normal and necessary. It's never okay to be cruel, but those videos frequently intimidate the horse person as well as the horse. 
In every riding discipline, there are good trainers and bad ones, and we all use pretty words. But now, remarkably few years have passed and the internet has exploded. Sometimes right in our faces. The most charismatic trainers may not be the best, and doing a thing is not the same skill as teaching a thing.
Be clear, one more time, there are good videos. And when I am evaluating a horse, they tell me how they were trained by doing stereotypical behaviors. Those methods, especially if the horse is young, remain in the horse's mind and behavior forever. In other words, the training methods are visible in the horse, and it isn't likely that each horse was trained by that particular trainer. I assume it's a trickle-down effect from those videos. I could be wrong about that.
All kinds of training leaves a mark. Good or bad, the experience lingers in the horse. If I'm talking to another equine pro, the conversation usually comes around to this because dealing with the remains of dysfunctional training is always a big part of retraining. So many of the horses are damaged or broken by poor training, becoming unreliable if not dangerous. So, they get repeatedly rehomed. You might have one in your barn. Most of my clients do.
Here's my problem: I've seen too many horses damaged by videos and too many railbirds passing on that same technique or bad advice, even if it didn't work for them. I would hate it if I put information out that would damage a horse or set a rider/owner down the wrong path, even through misunderstanding. I don't want to let videos run wild in cyberspace if they might damage horses.
But why would either of us think that you watching me work with my horse would solve a problem with your horse? How does seeing an advanced horse succeed help a troubled horse? What if the trainer can see a health issue and understand the horse's resistance is really about pain and not a training issue at all?
Members of my online group have furrowed brows now because they know I make videos for them. We have a few hundred in our library. I believe in coaching individuals. Horses and humans need a mentor with trained eyes helping. In my group and in my courses, we constantly use their private video. It's a great tool because we have the blessing/curse of instant replay. We can work with their specific needs. If my horse doesn't have that challenge, a video of me won't help.
Maybe the best part since the onset of technology and covid is that it's easier on horses who do their best working from home. Now anyone anywhere can be coached by the trainer they want. I love technology for this opportunity, and I've given lessons around the world this way.
Want to know the crazy part? If you have subscribed to this blog or followed it over the years, it is technology bringing you the oldest approach in the world. The written word has been your help or inspiration. Reading is personal. When you read about a technique the horse you visualize it with is your own. Because you don't have a perfect video image, you don't compare your horse to other horses. You create an image in your mind that is success for your horse. 
Horse people are famous for hating technology and it's easy to complain about the problems. It's been a huge challenge for me to learn to use it, but more than that, use it responsibly for the good of horses. Technology is exactly as good or bad as we make it.
Finally, if you are going to watch videos, here are some tips from your horse. Watch it first with the sound off. No dramatic music and no pretty sales pitch. Look at the horse's calming signals. Is the horse too quiet, with eyes too still? Is the horse frightened with tense nostrils and tight lips? Can you see a heave line on the horse's flank? Is the horse breathing normally or is it shallow? See the trainer through your horse's eyes, not your own.
For your horse's sake, remember that what you are watching isn't the first take. Videos can be manipulated and over-controlled much easier than horses.
Training will always be an art, a creation made over time with individuality, untold hours, and random luck. Please value the unique qualities and assorted weirdness that contribute to the masterpiece of you and your horse. 
…
Anna Blake, Relaxed & Forward
Want more? Become a "Barnie." Subscribe to our online training group with affirmative demonstration videos, audio blogs, daily quotes, free participation in "group lessons", and live chats with Anna. Become part of the most supportive group of like-minded horsepeople anywhere.
Anna teaches ongoing courses like Calming Signals, Affirmative Training, and more at The Barn School, as well as virtual clinics and our infamous Happy Hour. Everyone's welcome.
Visit annablake.com to find archived blogs, purchase signed books, schedule a live consultation, subscribe for email delivery of this blog, or ask a question about the art and science of working with horses.
Affirmative training is the fine art of saying yes.