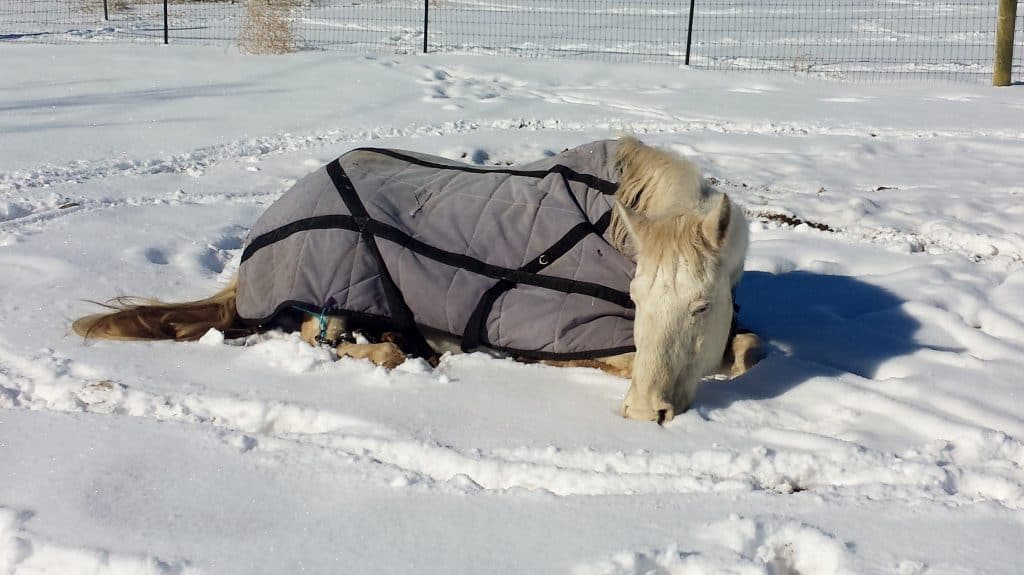 We are in Limbo. It's that week between Christmas and New Year when nobody knows what day it is. Not that it matters because that's the point of limbo. If you are in the Northern Hemisphere you are in-between storms. Entire states seem to have traded places. Some of us have ice rinks, and some are in drought areas, miserable in the snow, and praying for more. Weather is a constant reminder that we control nothing. If you are in the southern hemisphere, you're teasing us. Winter is personal, ours is always about us like yours is about you. I'm also suffering from a bread pudding hangover.
Maybe you are resting between shoveling out the pens and feeding more hay to keep the horses warm, some of which will hit the ground and be pooped on, so you can be shoveling out again soon. Better too much than too little, both hay and poop. Weather is not small talk. Winter came early, the weather is more extreme every year. We see changes in our horses, nothing scares us more. Old-timers say things like, "Never had to blanket in December before." Yes, the old timer is me and I'm blanketing horses who are now old-timers, too. Gasp.
We can pass time warming up between chores by reading Best Of lists which are a good reminder for horsepeople that we're out of touch with reality. Just as we like it. But then there are the lists of famous people we lost this year. And maybe we pause and look around and call the roll. Maybe we mourn friends or family members that have walked on, that kind phrase that Indigenous people use. Loved ones are just as dead though, for all our wishing it wasn't true. Maybe some of them are hairy and have four legs. In limbo time we count heads for a sober profit/loss statement of the herd and then give the new dog a grateful scratch.
Depending on the number of limbos you've had in your life, you might notice your hands are stiffer this winter, and feel good about it, considering the alternative. And you do the math and worry about the years ahead, a kind of future limbo. Who will go next? Who will outlive you? How can we make friends with the passing of loved ones as it becomes a more common part of our lives? How do we survive surviving?
How am I doing? I hope I'm forgetting the worst things.
This is the end of our third Covid year. The first one was the scariest for most people but horsepeople stayed home with the horses and coped fairly well. Having to stay home is never a good punishment for us. It was restful except if your occupation kept you running. Or if it was deemed non-essential and you were out of work. Like me. Out of work, in limbo, watching the horses eat hay.
The second year was a confusion, not sure what would be safe. It was the most limbo-est of the years because everything we thought we knew had changed a few times until we just didn't know much. It wasn't over, we knew that. But nothing had returned to normal either. By this time, I started an online school and it was thriving. The zoom meetings brought us closer together and people shared their stories of loss. It was a bittersweet year.
This last year, we got out more but it was the world that had changed. We weren't sure how, but a change had happened. It might not be more change than usual for three years, it's just that a pandemic gave us dates to remember. Now that I think about it, the pandemic is its own kind of big fat limbo, still suspending us in weird uncomfortable ways even now.
We tried to perk ourselves up recently at Solstice, cheering the longer days ahead. But it's still dark and cold. "Faith is the bird that feels the light and sings when the dawn is still dark." That's a quote by Rabindranath Tagore that's been on my wall for at least fifty years now. When I'm in limbo, I aspire to be a bird but I'm living on cough drops and tea. No songs come to mind.
Recently I found out there is such a thing as Cumulative Stress Disorder. Horse people are not generally hypochondriacs; usually we're tough as old boots. We'd rather see an undertaker than a doctor. But… I might have it. I'm not the only one, either. I want to think I have Cumulative Stress Disorder because then the long-term pandemic limbo stitched together with the usual dark-winter limbo, with the added Christmas/New Year limbo would seem to be a valid reason. I say this while checking the clock to make sure it's still ticking. It's a new habit, I notice.
Then early one morning, a friend sent me a link to a YouTube Livestream of a water hole in the Namib Desert. She'd been staring at it for a while by then and it is highly contagious because I've been stuck on it for several days now. I especially like watching it when it's nighttime and dark there. Because of hyenas and swimming owls. I will spare you the full list of species, but it's a calming signal cornucopia.
That's when I remembered the winter that I watched a Livestream of a bear hibernating. I'm a horse trainer, used to watching paint-drying minutiae, but this was truly spellbinding. Sometimes I dozed off watching her sleep. It felt so right. It was a sweet winter and when she woke up, I had a whole new energy. What if bears are right?
Horsepeople tend to be driven, a bit Type-A. Our work is never done. We eat holiday meals quickly so we can do chores. Even when we are in limbo between holidays we feel guilty about not doing enough. We have a pile of should related to tasks we haven't gotten to, not because we're lazy, but because we take on too much to start with. Mostly we feel bad that we aren't getting as much done with our horses as we should in this arctic void between holidays.
Just a friendly reminder. Your horse's memory is much better than yours. They do not forget their training. When it's cold, they spend more energy staying warm and they don't miss us. It's their season to half-hibernate, standing in the morning light. They are resting deep inside. It's a healing rest that changes them come spring. We don't feel we have time for that kind of rest and we fight the idea we need to heal. Well, we probably do, and rest doesn't mean we are wasting time. Horses don't keep time, she says checking the time. Just stop. Horses. Don't. Keep. Time.
The world will hold your place in line. Curl up in a dogpile with your head next to the dog who tilts his head far enough back that his lips part and you can see his teeth. Listen. Let a cat perch on your chest like a warm meatloaf. Let your heart soak up the juice. Let yourself feel exhausted because denying it won't make it go away. Sometimes it's healing to finally admit the truth.
It's also true that we are strong and capable and have been dancing backward in muck boots long enough that we have nothing to prove. Let your scars show. Smile so big your teeth get dry. And for crying out loud, stop apologizing all the time. Finally give yourself the credit you deserve. We are here to change the world. Nothing less. But first, we nap.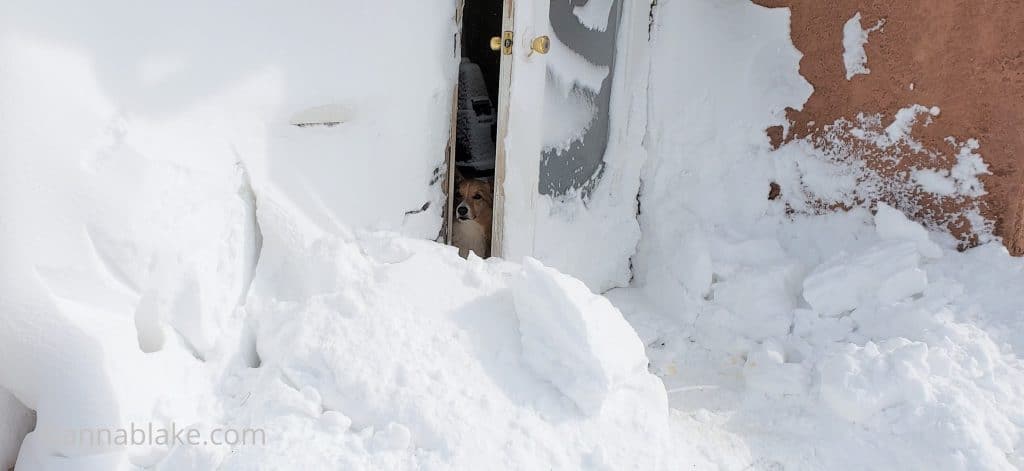 …
A note of thanks to everyone I met this year on the road and to all who spent some coffee-time reading these essays. Mostly, thank you for sharing horses with me.
Anna Blake, Relaxed & Forward
Want more? Become a "Barnie." Subscribe to our online training group with affirmative demonstration videos, audio blogs, daily quotes, free participation in "group lessons", and live chats with Anna. Become part of the most supportive group of like-minded horsepeople anywhere.
Anna teaches ongoing courses like Calming Signals, Affirmative Training, and more at The Barn School, as well as virtual clinics and our infamous Happy Hour. Everyone's welcome.
Visit annablake.com to find archived blogs, purchase signed books, schedule a live consultation, subscribe for email delivery of this blog, or ask a question about the art and science of working with horses.
Affirmative training is the fine art of saying yes.