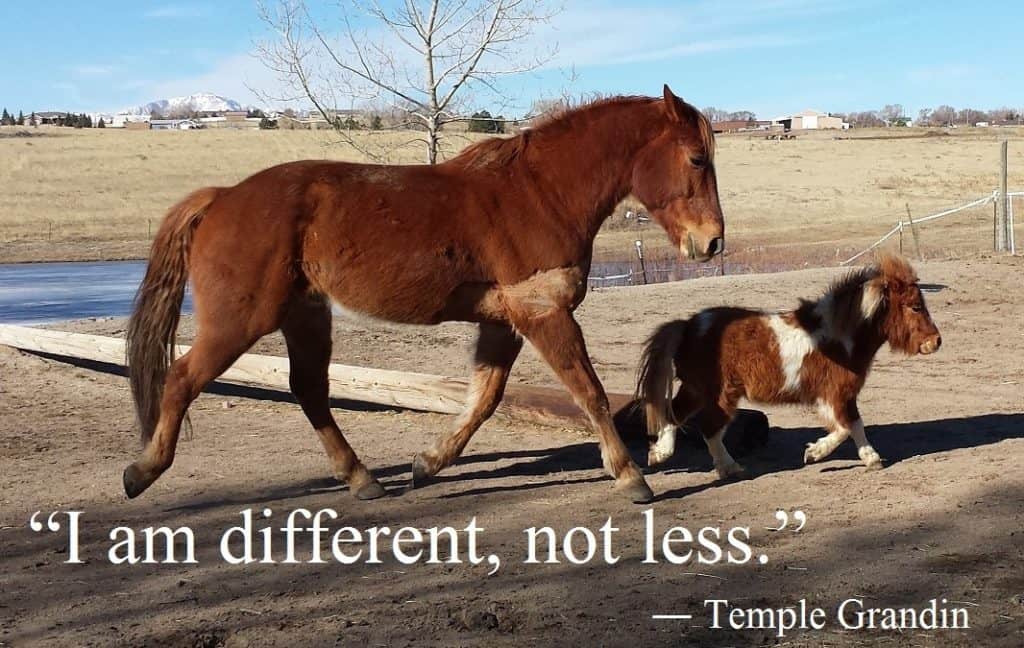 I've written "The Thing About" essays on Mares, Geldings, and Donkeys to dispel untrue myths and sing their praises. These essays were all better received than this one will be. Loudmouth Party-pooper warning… I'm humorless about diminutive horses. Refusing to use their common moniker, I get my attitude from them.
This pinto gelding prefers to be called simply a horse. It's what he is, he has all the equine parts including intelligence and sensitivity. Take another look. One of these horses is shuffling along and the other is pushing long strides to keep up. One has the confidence of a leader, and one has, well, a very forward stride. We are the ones missing the big picture.
So, what is my cranky problem then? The most traumatized and abused horses that I've worked with have all been under 10 hands tall. Much of my career has been focused on rehabbing horses in trouble, but the most damaged of that lot were all condensed in size. Are taller horses abused less often? Hard to believe. Do riding horses come around easier? That can't be right.
The difference that I see is the quantity of fear they hold. It's as if the fewer pounds a horse weighs, the more terror they are able to carry.
Some of them come to me after someone has tried to straighten them out, only to give up and leave the troubled horse with more troubles. Soon someone else tries to intimidate good behavior from the frightened soul. Ponies get the reputation of being ornery, belligerent, and bad-tempered when that more closely describes the person punishing them instead of training them. 
Vertically limited horses also have a reputation for biting, usually after being teased endlessly. Then we slap them back, and it's game on, tit for tat, except that the less-tall horse didn't start it. We think they're stubborn, and they think we are rude. We'd rather wrestle than train. Rather dominate them to show them who's boss and eventually, they get fearful enough to fight back. Is violence the only thing we know?
I see it in my barn. My previous vet was willing to listen to advice about a tense draft/cross gelding but seeing the same fear in a body not much bigger than his own, he felt fine manhandling the horse to get the job done. When I mentioned it, the vet denied it. Did he think harsh handling was defined by the height of the victim, like having to be a certain height to go on an amusement park ride? He wouldn't kick a dog, he is a good vet. Is our behavior unrecognizable to ourselves?
All horses have an innate sense of survival. Trusting humans takes a leap of faith and if that is destroyed by an oversized aggressive predator who ignores their calming signals, horses will hold on to their fear in a deeper way. It takes audacity to survive, coping with life-or-death anxiety every moment. The more exhausted they are, the more frantic they become. We don't recognize their strength in fighting adversity because we don't see ourselves in their eyes.
I rant on: These independent and strong creatures are belittled with irreverent humor and given insulting names that we would not consider if the horse was a different breed. Do we tease them with food because we mistake anxiety for cuteness? Are they children's toys to be kicked and jerked as they resist painful bits? Or mascots intended to be silly caricatures of horses, the animal we claim to love above others. Are they too insignificant to train? Are we just too arrogant to take them seriously and get professional help when needed? Or do trainers think they are less worthy of help? We don't take these condensed horses nearly as seriously as they take us. 
I ask myself these questions during the week it took to remove a halter that's grown into a compact molly mule's face. Her spirit is fierce. Or the days spent coaxing the Lilliputian donkey into letting me pick up his slipper hooves so when the farrier came, it wouldn't be as terrifying. He didn't believe me. Or in the hours beyond counting that I have spent holding a halter and breathing, as a dark-eyed, frozen horse of modest dimensions prepared to bolt if I took a step closer. I will grow old marveling at their tenacity.
I want to blame someone for their unfair treatment, but the usual suspects don't fit. Dressage trainers wouldn't be able to find them behind their warmbloods. Cowboys avoid anything smaller than a Quarter horse. Driving competitors who prefer horses with a low center of gravity treat their teams like athletes and heroes. It's unfair to blame kids, they learn by example. That pretty much leaves the Ninety-three Percenters. That's us, women own 93% of the horses in the US.
Ouch. I don't want to believe it's true. Most women have felt undervalued and marginalized in our lives. We've been considered too emotional to be capable of important work. Our talent and intelligence are doubted while our amazing bodies are judged not beautiful enough. Blonde jokes were invented for us. We are right to be fearful of stronger tormentors and at the same time, we hate to be underestimated. We are not mean people and we don't have bad intentions. If anyone is capable of understanding these horses, it should be us.
Is it a dysfunctional trickle-down effect? Maybe just human nature to bully those smaller than we are. If so, I don't think we get kicked or bit nearly as much as we deserve.
It's late and I'm just in from the night walk-thru. The dogs have barked more tonight and the snow from three weeks ago has turned into layers of treacherous re-frozen glare ice. Something is out there, heard but unseen. My mare is nervous and can't settle on her hay but our rehab, our dimensionally succinct horse stands between her and the dark. He is stalwart and resolute. Fearless of all things not human.
These equines are concentrated, more horse-per-square-inch than an 18 hand giant, and they punch above their weight in a fight. Maybe it's their courage we envy. Rise to your full height. They want something more valuable from us than a measly hand treat. They want respect. They see themselves as nothing less noble than a horse.
…
Here's the information about joining us at Bhim's Training Diary. Click here.
…
Anna Blake, Relaxed & Forward
Want more? Become a "Barnie." Subscribe to our online training group with affirmative demonstration videos, audio blogs, daily quotes, free participation in "group lessons", and live chats with Anna. Become part of the most supportive group of like-minded horsepeople anywhere.
Anna teaches ongoing courses like Calming Signals, Affirmative Training, and more at The Barn School, as well as virtual clinics and our infamous Happy Hour. Everyone's welcome.
Visit annablake.com to find archived blogs, purchase signed books, schedule a live consultation, subscribe for email delivery of this blog, or ask a question about the art and science of working with horses.
Affirmative training is the fine art of saying yes.