I was forty- nine years old, and my upcoming birthday was hanging in the air like a pair of stretched-out waist-high cotton underwear. My Grandfather Horse was on stall rest with a career-ending injury, never to be rideable again. At least my other horse, Dodger, was sound and fifteen. I didn't know I'd lose him in two years, but it wouldn't have changed anything. As much as we plan the future with our horses, it is always a risk. The risk isn't riding them; the risk is all that will happen to have them in your life. They change you in ways you cannot imagine until they are gone. We don't find out the full scope of a horse until all we have is hindsight.
If we do it right and are lucky, horses don't outlive us. I thought I had one more full horse life in me for sure. Maybe more but best to be conservative. If I found a youngster now, I could start him in four years, and about a decade or so beyond that, I'd have my next dressage horse. I had time, but more than that, I wanted to pay a debt forward. For my Grandfather Horse, and all the others, I owed so much and one of the best actions of gratitude I know is to bring the next horse along with all you've learned. This youngster would benefit from the ones who came before. In that way, I was their legacy. Horses live on inside the rider to the next horse. It isn't mystical. Some of it is muscle memory and focus. Serious riders climb on as many horses as they can. We keep part of them with us, not just in our hearts but in our whole bodies. Our bodies carry them on long after they stop carrying us.
Most nights, I was up late by the light of my computer, looking at videos and considering a few different breeds, but mostly really enjoying our barn door being open, knowing that my herd of two horses and two donkeys would grow soon. I told a vet I knew I was looking, and she stopped on the spot. "I know the horse," she said. It was an Andalusian x Appendix colt she'd seen recently. She gave me the breeder's number and told me to go see him. She told the breeder about me as well and in a few days, I got a sale flyer and a DVD in the mail. The video included a stunning Grand Prix test with the tall lanky stallion as well as a clip of the colt trotting off ahead of his dam, slowing to a perfect passage, and then bounding on again. I might have watched it more than once.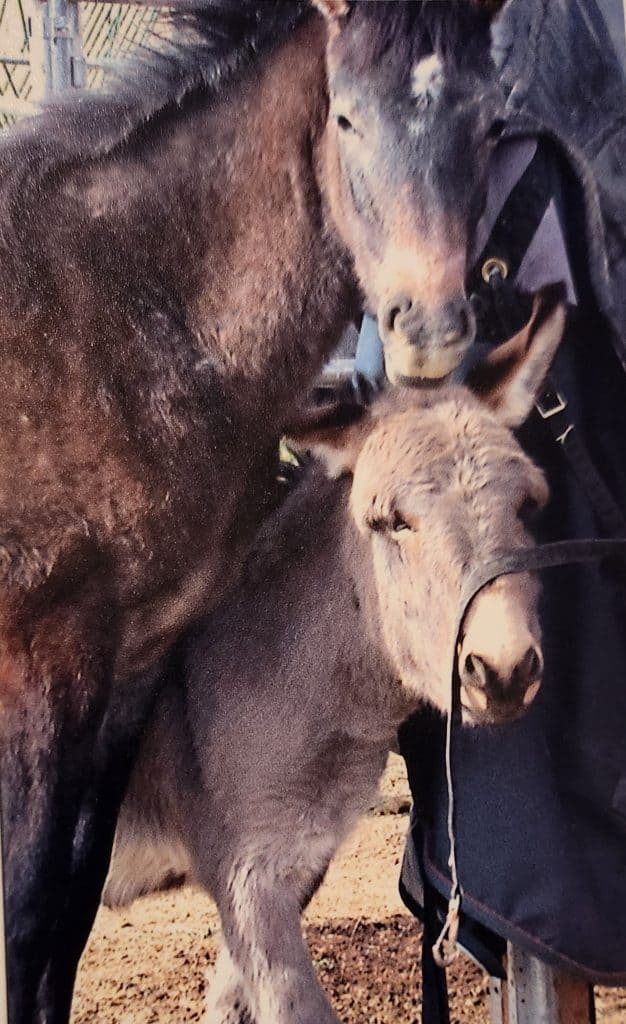 I brought a friend with me to meet him because I'm not stupid. The breeders were kind, and we had a good conversation, but I don't remember anything said by anyone. I'm sure I blathered some. We went to see the stallion first. Entering a door of an outbuilding, I thought it would be a barn aisle, but we were immediately inside his pen. I took a couple of steps to get to some open space and stopped. The stallion walked across the pen to me, his neck arched, and dropped his head lower to the height of my face. I can still see him there, I remember his shoulders and legs, I was dwarfed by him. His quizzical brow is alive with interest. The intelligence in his face was undeniable. He inhaled deeply, releasing his breath back out with slow deliberation. He had a calmness about him that wasn't stoicism, his face was open and authentic. The stallion did not pander to me, nor did we share breath as I'd known. This was as if I was stripped and known by his breath. As if he took the measure of me more than the reverse.
I didn't know that two years later, I would get one illuminated ride on him. I'm more fluent in calming signals now than I was those years ago, but my memory of the stallion has stayed clear. I'd never known a horse like him, and I haven't since. He was a different caliber of creature with more presence and strength and something I can only call a kind of virtue.
We walked to another barn where the colt and his dam were. The stall was large and dark, but light streamed in through the half-door in a cozy way. I stepped inside, leaned against the wall opposite them, and paused. The colt was on the far side of his dam and looking shy. He was a blackish-brownish color that would shed to gray soon. I saw little more than small curious ears, and very questioning eyes as he peered at me over his mother's back.
I do remember I had a thought standing there. It was a simple statement, but I didn't mutter it aloud. Almost as a greeting you'd say to a stranger getting your bearings, I thought a picture that asked is that your mom? The colt rubbed his muzzle on his mother's rump. It came back as quick as an answer but most likely a coincidence? We eyed each other and I thought another question to him. Can you say hello? He considered it, this thoughtful two-month-old colt, then stood tall and square over his hooves, bravely arched his tiny neck, and marched over to me just as the stallion had. I saw the same eyes.
After a few moments, I seem to recall the breeder led the mare to the arena and the colt trotted along, his hooves barely reaching the ground. I am sure there was kind conversation, the breeders were good people who loved their horses more than the business. I don't remember what was said but I hope I thanked them. I said I'd think about my decision, but my mind was made up back in the stall. I wanted to be cool enough to wait to call when I got home, and I did have other things to consider. I hope I thanked them again.
My friend and I walked to our cars together and shared some thoughts. Then I pulled up my granny pants, got into my truck, and miraculously found my way home. Still in a bit of a daze an hour later, I called back offering full price and asking about time payments. He was the only horse I looked at.
I had no doubts about him. All the questions were about me. Could I rise to meet this horse? Would I be able to train him in such a way that he could shine his best? Would every horse I'd ever known meet me in this one beautiful chance?
[Consider subscribing so you don't miss a week: Subscribe here]
…
Anna Blake, Relaxed & Forward
Want more? Become a "Barnie." Subscribe to our online training group with affirmative demonstration videos, audio blogs, daily quotes, free participation in "group lessons", and live chats with Anna. Become part of the most supportive group of like-minded horsepeople anywhere.
Anna teaches ongoing courses like Calming Signals, Affirmative Training, and more at The Barn School, as well as virtual clinics and our infamous Happy Hour. Everyone's welcome.
Visit annablake.com to find archived blogs, purchase signed books, schedule a live consultation, subscribe for email delivery of this blog, or ask a question about the art and science of working with horses.
Affirmative training is the fine art of saying yes.