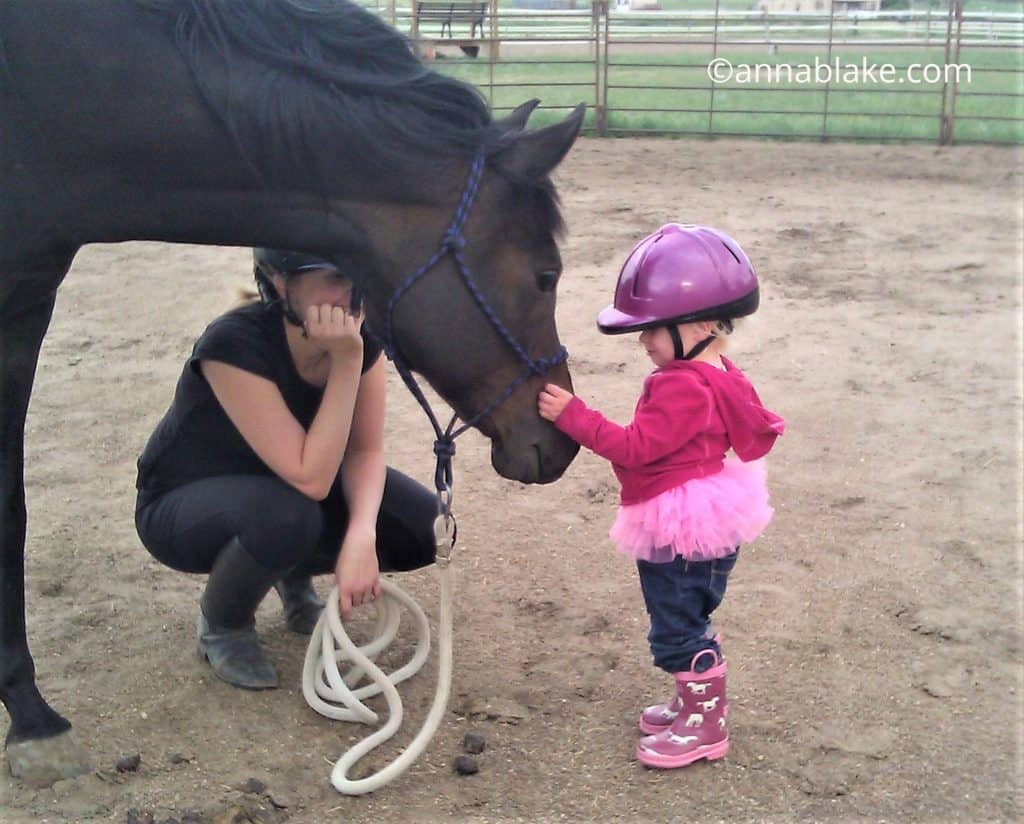 How many times a week do I tell a client some version of "When we know better, we do better"? It's a Maya Angelou quote, we all know it. It has no big words, we understand it. And yet we cling to the past. We smear shame, guilt, and remorse all over ourselves as if it's fairy glitter. If horses were half as unforgiving as we are to ourselves, we'd all be dead.
Not to mention that when a mare needs to inject some sense into a silly gelding, she lays down a quick gnarly threat and then leaves it. The gelding remembers and the mare acts like it never happened. Why can't we get over it?
I might be getting testy; I need a rant because all my empathetic soothing words fall on deaf ears. It's like people want to think they're a special case for being normal. It's like we're auditioning for a club that everyone is already in.
All good rants should begin with an extremely obvious example. Here's mine:
Being frustrated about not knowing then what we are just learning now is like being mad at yourself for needing diapers as a baby.
Very clever, except the process of housebreaking children is quicker than learning about horses. Here is how you can tell; I started riding when I was about three or four. My parents had given up trying to stop me and were now using a tall mare as a babysitter. I was also sneaking behind the barn to pee, which passes for manners on a farm. Doing quick math, it's been sixty-five years and I have been somewhat housebroken a majority of that time, but when it comes to horses, I am still learning more every day. And proud of it. Being trainable is a welcome skill.
The action of continuing to learn should, no, must be seen as a sacred duty. We continue to progress because it's the best way to acknowledge those good horses who took care of us when we pulled on their faces and bounced in the saddle. Horses know that's how riding starts. Why don't we? It's a show of gratitude to extend the life of a horse by taking the training they gave us on to our next horse. We are their legacy. It doesn't look good when the legacy is whining with contrite self-loathing when we should be proud of what we've learned.
As we continue to learn, it doesn't mean we throw out tradition, especially if it moves in alignment with new understanding, like what we are learning about brain science and autonomic nervous systems as they relate to affirmative training. Horses do not benefit from us living in the past. We would do better to use new understanding to forge better training methods that take the unique nature of horses further into consideration.
Start here: Research has shown that horses can identify emotions. The most-proven ones are anger and joy. Horses react to our emotions; it isn't that they care how we feel but rather if they are in danger. A horse's heart rate goes up when they sense anger, followed by them giving calming signals to let us know they aren't a threat to us. They read our fear, not out of empathy but for their physical safety. When we are confused, they usually stop, confused by our confusion. Notice these emotions are simple and almost primal.
Do they understand feelings of shame and guilt? Empathy or sympathy? Does remorse feel good to them? How do they read these nebulous and conflicted emotions on our faces? As much as we want to languish in this swamp, horses are busy wondering if they are missing something that could threaten their safety. Maybe they identify it as random "human anxiety", but horses can't ignore it or understand it, so it lurks in a dark place and makes a horse wary. They don't trust chronic passive anxiousness. Does regret feel like dread?
Does this remind you of all the misunderstood conversations where, in the name of being polite or kind, it only gets messier because we rehash the past, but no one wants to move ahead? Any horse will tell you change is hard. Also, inevitable.
We broadcast our failure to know what we didn't know, but the truth is learning about horses is a process that takes a lifetime and if we think about it, that's good news. We were all slow readers in the beginning. It was normal and we didn't apologize for it. Why can't we be that accepting of our learning curve with horses? Some of us feel loyal to our roots or have spent a fortune learning with the best intention, only to find the methods don't always work or they've been outdated. The best training practices should improve. If you can let go of using the wall phone in the kitchen in favor of a cell phone, and not apologize, why is learning more and doing better a problem?
Flog yourself for past ignorance, chant mea culpa with every breath, but know a horse feels our emotions. Then they have to figure out what to do with them.
What if the thing holding us back is the frequent reciting of our past behaviors, prompted by old voices that no longer make sense? Could we tell the voices finally to just shut up? What if we gave up our worn-out apologies, spent drama, and low self-esteem? Instead, we could allow ourselves to be proud students of the horse.
Because if horses can feel our anger or fear, then they can certainly feel affirmative emotions like confidence and self-respect. Your horse would thank you.
Look at that photo again. What is it that fussy, opinionated Grace saw in Hannah? The mare was notoriously cranky with heavy-handed humans who thought they knew how to ride. Seeing that light interaction, I wonder if that's the difference… that kids have no regret. Guilt is the very last thought in a kid's mind if they get to be with a horse. They are too busy being in awe. Remember when it was all about the horse?
As a horse person of a certain age, we usually blame ourselves for carrying a little extra weight, too, even as we consider getting a pink tutu and matching helmet. Instead of adding one more pound of blame, drop the weight of regret. Shed old guilt this spring. Let it be less dead weight for both you and your horse to carry.
…
Anna Blake, Relaxed & Forward
Want more? Become a "Barnie." Subscribe to our online training group with affirmative demonstration videos, audio blogs, daily quotes, free participation in "group lessons", and live chats with Anna. Become part of the most supportive group of like-minded horsepeople anywhere.
Anna teaches ongoing courses like Calming Signals, Affirmative Training, and more at The Barn School, as well as virtual clinics and our infamous Happy Hour. Everyone's welcome.
Visit annablake.com to find archived blogs, purchase signed books, schedule a live consultation, subscribe for email delivery of this blog, or ask a question about the art and science of working with horses.
Affirmative training is the fine art of saying yes.