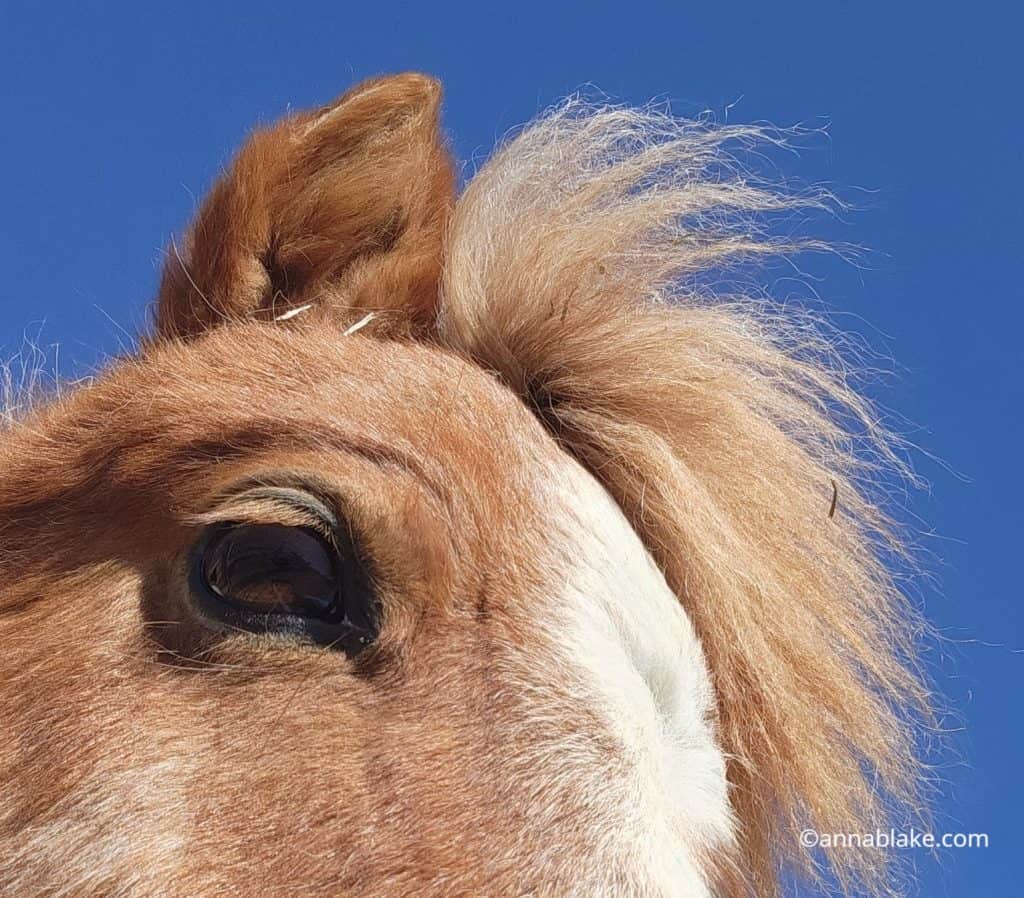 Have you experienced this? Someone says something that is a throw-away comment, not meant to be anything, they toss it not intending any harm. I mean it, kind people having a thoughtful conversation, and one of them says the new horse is close to perfect and she likes him a lot, but she somehow does not get the feeling of presence, or maybe heart,  she felt with the horse that died a while back.  And now I am stuck in an echo chamber with a comment that ricocheted off the walls a few times and then landed with the pointy end in my eye. I can't let go because it's personal.
Disclaimer: I am an equine professional who has studied calming signal peculiarities to a degree that would drive a normal horse-crazy girl (if such a thing exists) nuts. I know what I know. I sometimes wish I didn't. I'm no fun at rodeos and not a fan of playing pin the romantic tale on the donkey. I like who horses are naturally and want us to understand them for their unique selves. A horse's experience shouldn't be dependent on what they give us or how we feel about them.
This statement about one horse having a bigger heart is something we all have opinions about. We go so far as to call some of them Heart Horses. What does that make the others? How is a heart quantifiable? It isn't like the quality of a trot or the height of a jump cleared. It isn't crossing a finish line first, if any of us can stand to watch races anymore. Instead, it is a loss-fueled statement that puts the new horse in a diminished position. As if surviving a beloved horse's death, especially one they never met, is easy in the first place.
We all have a soft spot for old horses and old dogs. Some of that is quantifiable, but in a way we don't like to acknowledge. They are not as comfortable moving as they once were. They become more sedate when vision blurs and old joints creak. They hide their pain behind a stoic mask and become easier to control. Many of the calming signals for pain are mistaken for an agreeable temperament. We like them sweet.
Or did we change? Maybe by the time the horse gets older, we stop fighting with them and their heart grows softer, not having to defend itself. Yes, it took all of their life and a good chunk of ours to get there. Do our hearts grow larger after we die? I hope so.
Some horses are hard to love. Some are so fearful and anxious, that you might like them well enough at a distance but are relieved that they aren't your horse. Maybe they have hurt their rider or have an undiagnosable condition that makes for unpredictable behavior. We feel sorry for them; we have both sympathy and empathy, which is like sending thoughts and prayers. It's truly kind. Are these the horses with smaller hearts?
Is it the horses who frighten us that have less presence? Abused horses have less of that winning personality. Sometimes it's the spooky horse with small eyes that is aggressively intimidating. They have a presence but not one we like. We want tall calm horses with long manes in pretty colors. We can be a little superficial that way.
I've known horses that have been used well in agreeable work, cared for impeccably but not "loved." I don't think horses miss what they don't know. It doesn't make their heart smaller. I've known horses who are loved to cloying distraction and micromanaged to the extreme. I think often it shrinks them; they pull inside themselves as if human love were a kind of domination.
What is it that pokes me so much about the size comment? If I have thoughts about the quality of a horse's heart or the power of a horse's presence, what are they?
Let me describe how indescribable I think a horse's heart is. Hearts are fluid and vapor, boneless and strong. They shrink or grow, by the second or hour, eternally reacting to their environment. Horses are not creators, they respond to their surroundings, flight animals forever driven by a survival instinct beyond choice. Their hearts fluctuate, like the pupil of our eye, but horses find footing when their environment supports them. It's why they try to trust us, or give up trusting us.
I think a horse's heart is ethereal. Do you know the definition of that word? The Oxford dictionary says: "extremely delicate and light in a way that seems too perfect for this world." We recognize horses in those words, don't we?
But as they react to us, horses also take cues from us. They get numerous messages whether we are aware we sent them or not. They don't use fussy words to define us but horses read intention with precision, messages that are small but obvious in our own calming signals. We can practically make them lame by staring at a leg, or we can be so accepting of them that we lay down our critical thoughts and they feel safe. On any given day, horses reflect their surroundings, through a lens of their experience and memory. And for all we think we know, horses remain a mystery to us. Are we sure the heart we are judging is even theirs?
Or, ignore all my rambling chatter and let the question be answered by simple math. On average, a horse's heart weighs seven to nine pounds, compared to a human's measly little half-pounder. Not that they judge.
…
I've been getting a master class on courage from a reactive horse I'm working with. Ten weeks ago, his heart was obsidian. Today his heart flutters in the wind like a transparent silk scarf. What his heart will be tomorrow is unknown but I will be listening, open to his reactions to this ever-changing world. Follow his work at Bhim's Training Diary. Click here.
…
Yes, I'm a turtle on a fence post. My identity has been stolen on Facebook and I'm unable to get to my business page or get help from FB. If you appreciate what I do, please subscribe below or come join us at The Barn School.
…
[Please don't miss a week: Subscribe here]
Anna Blake, Relaxed & Forward
Want more? Become a "Barnie." Subscribe to our online training group with affirmative demonstration videos, audio blogs, daily quotes, free participation in "group lessons", and live chats with Anna. Become part of the most supportive group of like-minded horsepeople anywhere.
Anna teaches ongoing courses like Calming Signals, Affirmative Training, and more at The Barn School, as well as virtual clinics and our infamous Happy Hour. Everyone's welcome.
Visit annablake.com to find archived blogs, purchase signed books, schedule a live consultation, subscribe for email delivery of this blog, or ask a question about the art and science of working with horses.
Affirmative training is the fine art of saying yes.