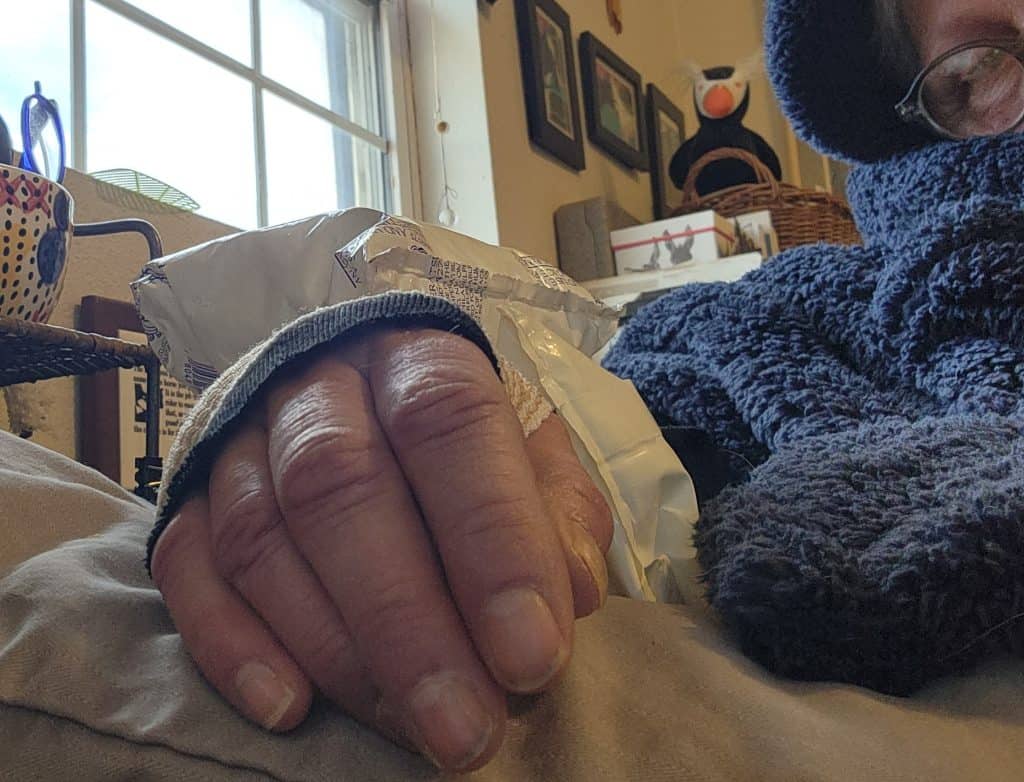 No, I'm not dreaming of a career as a hand model. My hands have looked like an elderly mechanic's since I was a Goldsmith in my 20s. Scars, big joints, and apparently, the drought here includes hand lotion. It's just that they told me in the emergency room to keep an eye on my fingernails and if they turn purple, to let them know. The fiberglass splint goes all the way to my shoulder and is snug. My elbow is in limbo. I can't see my fingers, so I took a picture.
I don't want your sympathy; I want your right hand.
It seems I broke my wrist 8 hours ago and I'm sitting here waiting to hear when the pain meds at the pharmacy will be ready. Lacking those, I'll use my words. Writing always helps.
First, know the horses are fine. No horse was even involved in this incident. Don't ask. When people get hurt, they feel stupid enough without repeating the story. Enough said. The good news is that I asked the Dude Rancher to help me stand up and then take me to emergent care. None of us is good at asking for help, but excruciating pain makes me remarkably reasonable.
The break in my glasses was much worse than my wrist. I'm not complaining about the swollen eyebrow or green skin because it matches my eyes and it's the closest thing to eye shadow I've had on in 40 years.
It will come as a surprise to no one that I knew how to read the X-ray. I've never seen one this bad for any of my horses, so that's something. It's a compound fracture visible in two directions but not as bad as Arthur, the goat's x-ray after the Grandfather Horse parked on his leg. Naturally, my X-ray also showed a previously broken bone in my wrist. I have no idea when or how that happened but the doctor showed no surprise. It wasn't his first rodeo, either.
I've got a few days to keep my arm elevated before going to the ortho to find out if I need surgery or if they can manipulate the bones back in place. Either option makes me wanna puke. I thought about asking the nurses today to pour a swig of whiskey down my gullet, stick a hunk of leather to put between my teeth, and snap the bone back on the spot, but the nurses didn't look like the type.
Horsewomen are famous for gallows humor. We are witty as donkeys and then the next moment, sharing cookies with each other and cleaning sheaths while we chat.
Now what? I'd like to say I'm going to launch my new audiobook, but since being ghosted by Mark and exiled into cyberspace, I'm lost. Oh, the pain, the heartache, the long dull hours of hoping that it wasn't true. He and I have been in a long-distance relationship since 2008. Yes, there is an age difference, but our affair wasn't a secret. You knew our business. Well, you knew mine at least. Mark can be elusive.
I have been loyal when others, many others, have left him. For the last 1,353 Friday mornings, I have posted affirmative essays about horse training, reactive dogs, and women of a certain age. Standing against whiners, haters, and general buffoons, I've posted photos of pretty white horses, doing my best to offset the trash talk and unsavory photographs of beach vacations, fancy dinners, financial advisors, and other crazy notions. I have the stats and I have the words. Mark, wasn't I good to you?
Back in February, a man half my age with dark hair and no horses in sight stole my identity on Facebook. How could anyone mistake him for me? That was when I got ghosted. No one there will talk to me.
About now, dear readers, some of you will claim the high moral ground and say that social media is the root of all evil in our culture. I don't disagree. I also don't know how to have a business small business without social media. So yes, I'll beg.
But I don't know if Mark and I will get back together again. I don't know if I can trust him after he stole custody of all of you. Maybe it's time to subscribe to this blog or to keep up with my writing, subscribe to my other blog. Then we can meet behind his back. Do I sound bitter? He's keeping me from my friends, too. I'm searchin' with a torch song,  Mark, for you.
So, what will I do while on stall rest? After many requests, Stable Relation is available in audiobook form at all online sellers. I should throw a party on my FB author page, but Mark took those keys as well. Hear one hand clapping with mocking sarcasm.
And since I'm done with the first draft, now is a good as good a time as any to tell you I'll have a new book out later this year and it's entitled Undomesticated Women, Anecdotal Evidence from the Road. I've switched my mouse to a lefty and I can keep editing while I'm on ice. Another reason to not feel sorry for me. This new book is a travel memoir of my 13k-mile road trip last year. Mister, my dog, says it's really all about him.
This brings us to now. For every Thursday night for the last 1,353 Thursday nights, I have stayed up late writing an essay. I do it when I'm at home or when I'm on the road. Sometimes I'm in other countries and other times I'm in my studio with a snoring pack of unimpressed literary dogs. Tonight, my right arm is under an ice pack, but as long as I have a finger to peck with, I will not be silenced!
I might have gotten carried away with the soundtrack, but thank you for reading along all these years. I know it's setting the bar pretty low, but you're more loyal than Zuckerberg ever was. As much as I wish it was true, this isn't the pain meds talking. I am wildly grateful to each of you. Maybe he was jealous, we've had some great times together. Thanks for lucky 13!
So, come hell or high water, it is the 1,354th consecutive Friday morning, and I may be jilted and horribly self-indulgent, but you know what happens when we get bucked off…
…
[Please don't miss a week: Subscribe here or come join us at The Barn School.
Anna Blake, Relaxed & Forward
Want more? Become a "Barnie." Subscribe to our online training group with affirmative demonstration videos, audio blogs, daily quotes, free participation in "group lessons", and live chats with Anna. Become part of the most supportive group of like-minded horsepeople anywhere.
Anna teaches ongoing courses like Calming Signals, Affirmative Training, and more at The Barn School, as well as virtual clinics and our infamous Happy Hour. Everyone's welcome.
Visit annablake.com to find archived blogs, purchase signed books, schedule a live consultation, subscribe for email delivery of this blog, or ask a question about the art and science of working with horses.
Affirmative training is the fine art of saying yes.
.