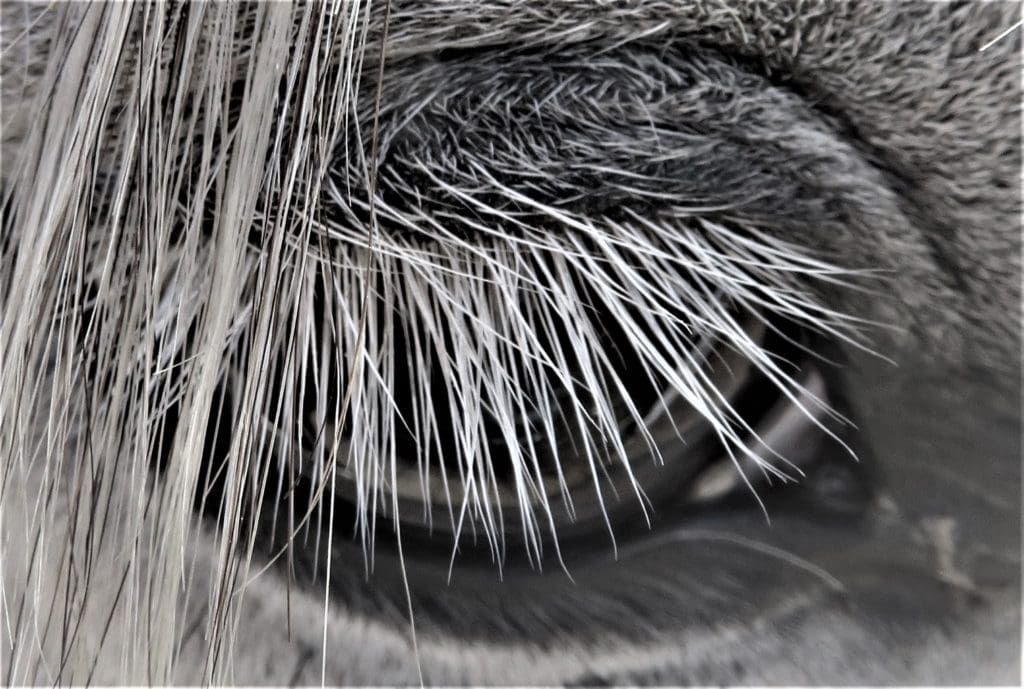 A few years back, a pretty well-known trainer made a statement about using force with horses. Flat out, the craziest thing I'd ever heard. The short version was if you wanted to lollygag around your pasture, and ride like a girl, fine… but if you competed, you had to win and that meant dominating your horse into submission. The first thing I thought was cheap talk from a full-grown man on a 14.3HH Quarter Horse. Let's pop you up on an 18HH Warmblood and see how that works. But that's just my testosterone shooting back. And it's silly because I'm a dressage trainer and in my discipline, women dominate the competitions, not their horses. Dang, there I went again.
It's also a serious question that comes up from thoughtful horse people trying to get their heads around a different way of training. At the wrap-up session at the end of a great day of affirmative training, the what-if questions come. What-if it's Sunday night at a clinic and your horse won't load, what-if there's a fire, what-if I'm up in the woods and the sun is setting, what-if it's an emergency? Notice a pattern here? They are trailering what-ifs, so my answers will be about trailering, but it translates to everything we do with horses.
I think the real devil's advocate question is, "When is it okay to hit my horse?" What do I do when it all comes apart? Is there a situation where I get a special dispensation for cruelty? (Ouchy the way those words came out of the end of my fingers.)
Let me be clear: If it is truly life and death, not just inconvenient but a serious emergency, then you pick the least of all evils, and if that has to be unkind, you will do it against your better judgment. In this horrible moment, I will startle my horse rather than touch him. But if you do, in the split second after whacking them, have something really positive on the tip of your tongue because he will need it. And then you may not do it twice. Understand if you have no alternative but force, you are not where you hoped and you have work to do to make it up to your horse. He may be in the trailer, but it isn't a success.
The problem with these what-ifs is some are not within our control, like fires, but most of them result from mistakes or poor planning. Our responsibility.
Now let's go on to the what-ifs. First, if the questions that come to your mind are about trailering, you have trailer anxiety. You're not even in the situation, but it's on your mind. Your horse will always have anxiety, he's a flight animal, but he shouldn't have to carry your anxiety, too. You must resolve yours because you're asking a lot of your horse and it's not fair. Horses shouldn't get in trouble for what we do wrong.
Never, under any circumstances, work with a horse when you're angry or frustrated. That rule isn't about our manners; it's about equine temperament. Fear-based training isn't wrong because it's cruel; it's wrong because it's incongruent with how horses think. Learn self-control. Is the horse resisting the trailer or resisting the fight he knows is coming?
What-if it's Sunday night at a clinic? Clinics are all about things being different; that's stressful. Your horse is exhausted. What-if you're up on the side of a mountain and the sun's setting? Maybe you think it's fun to be gone that long, but your horse is tired and flooded. If separation anxiety kicks in, a sure sign he's anxious about your anxiety. Please notice you are tired, too.  Instead of thinking he should want to go home, understand that his brain doesn't work that way, and this isn't a training issue. He isn't disobedient; he is overwhelmed. Upping his fear isn't the answer. Can you spend the night and go home the next day?
When your horse who normally goes in the trailer refuses to, it's a calming signal. It's him telling the truth. It isn't fair to take him away for a day or weekend, if you have not built that habit gradually. If you plan to take your horse off-property for clinics or trail rides, take short trips first. I mean, haul him, let him graze, and bring him home. Give him gastric support every time. Stop riding sooner, do less. Consider it an endurance ride, because it is for him, and then train for it. Do some serious conditioning, mentally and physically. If your horse is struggling, he's asking you to prepare better. 
If it's a fire or a serious injury, it's a genuine emergency, you'd better have the trailer your horse fits in easily and likes. Stock trailers are made for emergencies. With fires, depending on the situation, it can be expedient to use a chute to load. It's given me peace of mind to know this option. If a horse is already in their sympathetic system, flight response, it's the smartest way. Make sure you have a first aid kit because horses can get hurt if we scare them into the trailer. Plan ahead and have what you need before leaving home.
Here is the real answer: Emergencies happen. Chaos always exists. No one is perfect. But please, understand that if you train affirmatively on a good day and then fall back on dominance training in stressful situations, you've shown your horse your inconsistency and erratic moods. You're unreliable. Being a flip-flopper can confuse your horse enough that neither approach will work. And in the process, you've destroyed trust.
Let me give you a what-if. What-if your horse's hesitation is him processing the question? Maybe your horse is weighing your request against the fear you might hurt him. What-if in the moment you doubt affirmative training, your horse is doubting the exact same thing? Calming signals happen at the intersection of conflicting thoughts in humans and horses. Like a game of chicken, which of you will break trust first? Because training isn't about technique, it's always about relationship.
You're the one that has to prove Affirmative Training works, especially when it's inconvenient. It takes more self-control and respect for your horse to be consistently kind. Much more strength to NOT lose your temper and patience. Let your horse read your confidence and focus, not your anxiety. Sorry to nag, but when was your last full breath? No one is perfect; it takes a lifetime to train a horse, but we must learn from our mistakes rather than punish theirs. If you are consistent it will work for you because consistency breeds consistency.
This is when the rubber meets the road; when trust matters. Exactly because you aren't lollygagging around the pasture. Your horse really needs help now. He really needs you to ride like a girl.
…
I was able to regain my identity on my Facebook business pages, but I'm not willing to give them that kind of power again. If you appreciate what I do, please Subscribe to the blog or come join us at The Barn School.
[Please don't miss a week: Subscribe here]
Anna Blake, Relaxed & Forward
Want more? Become a "Barnie." Subscribe to our online training group with affirmative demonstration videos, audio blogs, daily quotes, free participation in "group lessons", and live chats with Anna. Become part of the most supportive group of like-minded horsepeople anywhere.
Anna teaches ongoing courses like Calming Signals, Affirmative Training, and more at The Barn School, as well as virtual clinics and our infamous Happy Hour. Everyone's welcome.
Visit annablake.com to find archived blogs, purchase signed books, schedule a live consultation, subscribe for email delivery of this blog, or ask a question about the art and science of working with horses.
Affirmative training is the fine art of saying yes.