Edgar Rice Burro runs with a gang of misanthropes. A goat whose broken leg healed stiff, so he has an even wonkier gait than most goats. A mini horse that doesn't like people, so he's been hiding behind Edgar for a decade. He practically raised a quirky mare until she was mature enough to get along with horses. That took fifteen years. In his prime, Edgar was the bad boy break-out king (a wiz with latches) who then let his best friends (not everyone) out to join in the debauchery that followed. Think of him as Travolta's character in Grease. He always acts a little cooler than he is. In the end, not that cool, and his heart rules him more than a tough guy's should. Edgar always pulls for the underdog.
He wasn't here on the farm at the beginning, it just feels like he was. When I was training locally, he took charge of settling the new horses who came to our farm for training. They went into a pen with Edgar. He refused to fight and shared his hay. If he got chased off, he never took it personally. A believer in affirmative training from the start, he persisted in being good company.
He hasn't been the only long ear on the place. Edgar is one of eleven donkeys and mules who have come here for training over the years, but he has stayed the longest. He blew his "cool" cover right at the start by braying every time he saw me. When I drove in or out of the farm gate, Edgar let out a squeaky-hinge of a howl. When he heard the back door open, the rasping gasps of a crosscut saw. When he saw me through the window in the shower, he gave a wheezing moan that cranked up into wailing longear blues, interspersed with farts like a backbeat on each heaving honk of his bray. He is that irresistible.
We did horse agility, ground drove, and hiked together. He is reliable with children, a remarkably rare skill on my farm. He protected those smaller or weirder than he was. Edgar would like me to mention that in a herd of extremely handsome horses, he is the real lady killer. He even had a brief theatrical career.
Mostly, we spend hours mucking together. If time was going too quickly, he blocked the muck cart so I had to lobe the manure over his head like a long-distance three-point shot, into the cart. He played the long game, patiently waited, and watched for his moment. It was like a chess game, planning moves ahead until he planted a hoof on my muck fork and checkmate! I pay the donkey toll.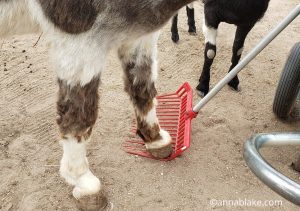 Back when we first met at his previous home, Edgar was hard to halter. Donkeys are deep thinkers and often misunderstood. He'd had some rough handling, as most long ears do. There were some fear issues. The vets hadn't been patient with him, a farrier had messed up a trim, still oozing when he arrived. Edgar still remembered.
I trusted we could work it out. I've done it often enough with sour horses, even troubled long ears. Soon his bawling yells lessened, and he slept in the sun. We had some really good years watching sunsets together. Edgar is a poet.
Nothing about Edgar has ever been frail, but just like me, the years are taking their toll and mortality runs through our barn like mice, scattering as we enter, hidden but still there. Edgar has degenerative suspensory ligament disease (DSLD). His fetlocks are giving up on him. It's a painful predicament with no cure. When the word degenerative is in the name, well, there you are. Mortality mice everywhere.
But that isn't the worst thing. He has lost his trust. The old fear has all come back now, dark and primal. He is braying more insistently when he sees me and sometimes wails in the dead of night. He pins me against fence panels and holds me there. Many elders grow into a doddering age, sweeter for their slowness. That kind of peaceful retirement will not be Edgar's.
I get him haltered for the farrier an hour early and he barely tolerates it. There is no version of slow that is slow enough. He is done, aged out on behaving. The pressure on the standing leg doubles when he lifts a hoof and he can't trust his leg to hold. When the truck pulls in, he bolts. His fear is wild terror, crushing all in his path. We can cajole him, but I pray he won't need a trim this time. A vet visit is worse. Is it a kind of donkey dementia?
We lost an important herd member this year. I'm still dragging my toes, but the herd seemed to be doing well. There is always a shift when the herd changes, but they started pushing Edgar around. He is not all that stable on his feet, so he became afraid of the horses he's always lived with. I moved him, with safe company, into the shadiest, best pen. A month later Edgar colicked. I couldn't get a vet out till the next day, so I ran next to Edgar to give him a shot of Banamine. Then I watched him paw gigantic holes for the rest of the night.
The next day, I prepared him as I could, and after a very stressful exam, the vet confirmed ulcers behind the colic. I'm the one who's good at recognizing ulcers using calming signals, but I missed it right under my nose. Edgar, so stoic that he refused to give a hint, was struggling. He is so cranky, he gets his meds in an apple now. He is aggressive about that, too.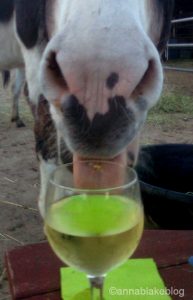 Sometimes I think of Edgar's poor fetlocks struggling to hold the weight of his body as I fidget support hose onto my own misshapen feet. Each year gravity seems to pull Edgar's bottom lip a little longer and a little softer. Gravity isn't doing me any favors either. Somehow, Edgar and I have both become elders. Those younger than us don't know what we know. It's not their fault, it's the blessing of our years, but we are on the downhill side. Now and then when I'm working, someone will grimace, thinking I'm an ass. I put a big old smile on my face, and stubbornly bray on. It isn't an insult to me.
How old is Edgar? Chronological numbers are deceptive and expiration dates are not up to us. Scoring lives by numbers is just another man-made competition. Living the longest isn't a win if it's all pain.
I've been writing essays about Edgar Rice Burro since the start but when his time comes, I won't mention it. Death is too common, so ordinary that it isn't worthy of him. But we aren't dead yet, there is a new season on the way. The nights are cooler and the prairie sunset will hold us dear, even as the things we love become a little less tractable.
Lately, I worry more while I'm gone for work. It's been a donkey's years we've been together. I think too much about death, wanting to plan for things beyond my grasp. It's about making peace with where we are, but some of us are cantankerous by nature. So, I'll listen for a certain sound like a foghorn in a sandstorm, a gasping honking yodel, the song of my people.
…
If you appreciate what I do, please Subscribe to this blog or join us at The Barn School.
Anna Blake, Relaxed & Forward
Want more? Become a "Barnie." Subscribe to our online training group with affirmative demonstration videos, audio blogs, daily quotes, free participation in "group lessons", and live chats with Anna. Become part of the most supportive group of like-minded horsepeople anywhere.
Anna teaches ongoing courses like Calming Signals and Affirmative Training at The Barn School, along with virtual clinics and our infamous Happy Hour. Everyone's welcome.
Visit annablake.com to find archived blogs, purchase signed books, schedule a live consultation, subscribe for email delivery of this blog, or ask a question about the art and science of working with horses.
Affirmative training is the fine art of saying yes.