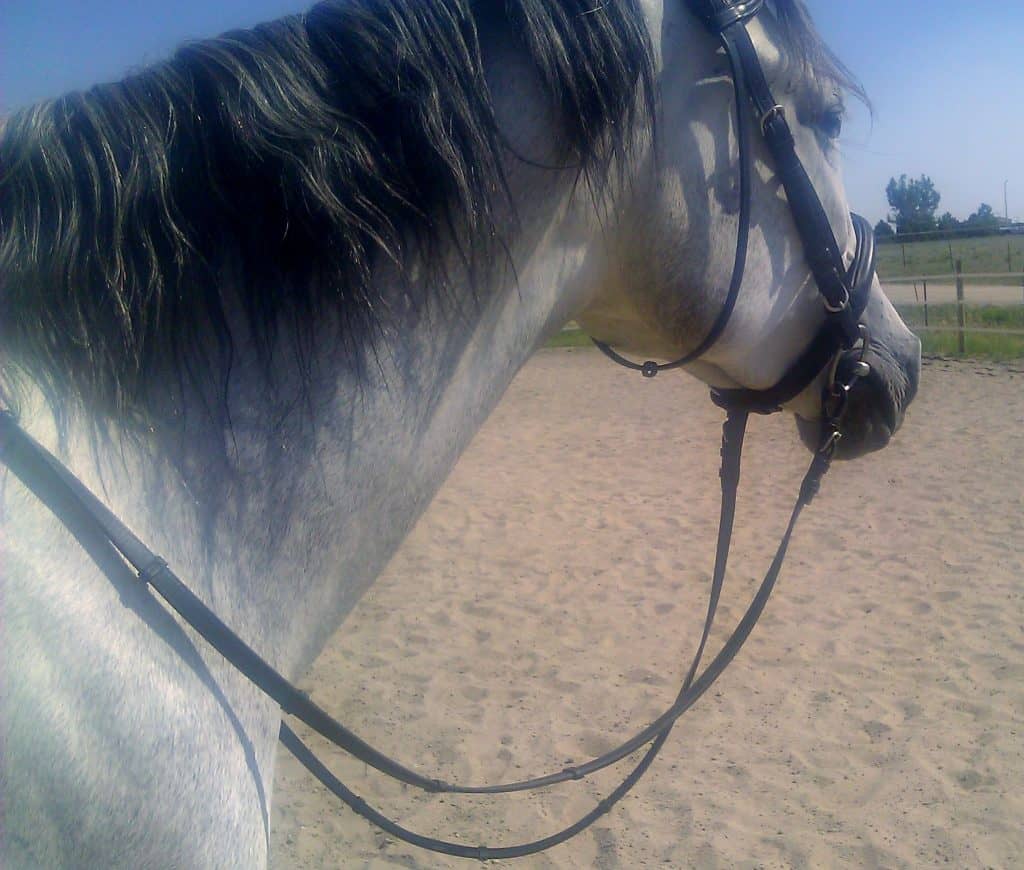 Today, I'd like to use you as a human demo horse. Please, play along with me.
Let's say you come to me for a riding lesson. It's the first time and you're on my horse. He's tall and athletic and you don't know him. And let's say I'm a total idiot. I tell you to mount up. We'll start with some canter work. You'd like to tell me why that's a bad idea, but I don't listen. I keep ordering you around. Just do it, I say. You stare at the ground, maybe mumble under your breath, but mount up. Trot, I say. Your feet are barely in the stirrups. Now I raise my voice. Just send your horse to the trot, right now. Do it. You tell me you need time; the horse isn't ready. You tell me you have questions; you need a moment. But I yell back STOP BEING AFRAID as if that's a cue anyone can take, but now I'm mad, marching towards you with a lunge whip. Pause right here.
Growing up, I was told that my horse needed to respect me. That meant my horse had to do what I wanted the minute I asked. Some trainers use the phrase "Ask, Tell, Make." The theory is that the horse will do what you want responsively on a smaller cue because they know a bigger cue is coming. In other words, the threat that danger is coming. Threats make perfect logic to a human. Not so much to a flight animal.
We were told that horses should give to pressure, so we don't stop cueing until the horse submits. Hold tension on the rope until the horse gives. But horses don't naturally give to pressure, and neither do we. Or with the same theory, you kick your horse to make him move forward, but if he doesn't move off, you keep kicking. Kick harder until he goes, get spurs, or add a whip. How far can you escalate? It becomes a war of wills until we find out they're lame or have ulcers from stress. Not going forward isn't always a training issue.
A lot of horses shut down when the cues get loud. They are smart enough to know a big cue is coming, but instead of obedience, they brace their ribs. They wait for our violence. They withdraw and go into freeze mode mentally. He can look like a push-button horse. Or a horse with eyes that are too still and dark. Hope you have your helmet.
Other horses will react unpredictably, and be hollow and tense. Maybe you are "man enough" to ride it out and that makes you cool. You either can't tell the difference between forward energy and fear, or you like adrenaline sports. Your horse seems to get injured often and has chronic lameness. There's white around your horse's eye when you come near.
Once I was told that my horse should be more afraid of me than anything in the environment. I guessed that fear and respect meant the same thing.
Repetition of the cue again and again makes the horse dull. Whether it's the slapping of a leg, the tapping of a whip, or the endless chattering of our voice. The more we repeat, the less they can hear, and the more frustration we feel. It's not working. Everything has devolved into a wrestling match with anxiety on both sides. It's hard to remember what we liked about this. This is how you can tell you're nagging. It feels bad.
You can teach a horse to give to pressure, but that can be pretty damaging to their confidence. That's the part that's missing in some training methods. The results look good short term, but how long can a horse tolerate being pushed? It's emotionally damaging and eventually, the horse becomes spookier and less willing. One problem with fear-based training is we have to hold a combative edge.
In Affirmative Training, we use a method called Peaceful Persistence: Not aggressive. Not conceding. Not emotional.
In this method, I'll inhale, I might cluck, or say "walk on." I might squeeze with my calves, but I'll do the least I can get away with, and the next time I ask, I'll use less. After I ask I'll give my horse a moment to consider. He needs quiet to think, so I don't interrupt him by repeating the cue he's already thinking about. I'll ask once and wait. If I get anything remotely like what I'm asking for, even if I can tell he's thinking about what I am asking, I'll reward him. Then wait a minute and ask again. My requests are not incessant, and I give him time in between to ponder.
Maybe he can't answer because he's braced for that big cue. It's in his memory that it hurts now. He waits and I breathe. I let my silence tell him I won't attack him. It takes time until the horse releases enough anxiety to even be able to think about the question. It isn't disobedience. He needs to feel safe, and we need to listen patiently. I think of this as doing penance for those who train with harsh methods. When he can, the horse will volunteer. In the meantime, we want to kick. We don't trust the horse is trying. Finally, we remember to breathe and take a step back.
Does it sound more like therapy than horse training? It is. The same methods that caused their problems won't heal them. We want a confident horse, but the training has to support that option. Constant correction and nagging will not get us that horse.
Now back to being the demo horse, the beginning scenario. I was barking at you, the rider, so endlessly that I couldn't listen. Does it remind you of something? You can't get a word in edge-wise with me, just like your horse can't get one with you if the cues never stop. They think we don't listen and they're right.
Horses are like the shy kid in the back of the room, too nervous to raise their hand. Horses are the wild kid acting out, trying to distract you from his insecurity. They're waiting to see if you're going to escalate the cue; waiting to see if they should brace their ribs. Once they're satisfied they're safe, they can think about the question. But again, it's going to be hard for them to speak right up if we're chattering away. Horses don't interrupt or talk over us. They need a lull in the conversation to find their voice.
In the end, the short answer is this: the difference between peaceful persistence and nagging is our ability to wage peace. Do we listen to the horse, or better, let the horse speak up, or do we demand an answer immediately? Counterintuitively, listening needs to be prioritized over the desired result in order to achieve the result. Praise, not punishment. We pause and give the horse time to think because we care about his mental health as much as biomechanics and training.
Training is all about respect, but it's our issue. We must respect the horse as a partner, not a prisoner of war.
…
If you appreciate what I do, please Subscribe to this blog or join us at The Barn School.
Anna Blake, Relaxed & Forward
Want more? Become a "Barnie." Subscribe to our online training group with affirmative demonstration videos, audio blogs, daily quotes, free participation in "group lessons", and live chats with Anna. Become part of the most supportive group of like-minded horsepeople anywhere.
Anna teaches ongoing courses like Calming Signals and Affirmative Training at The Barn School, along with virtual clinics and our infamous Happy Hour. Everyone's welcome.
Visit annablake.com to find archived blogs, purchase signed books, schedule a live consultation, subscribe for email delivery of this blog, or ask a question about the art and science of working with horses.
Affirmative training is the fine art of saying yes.