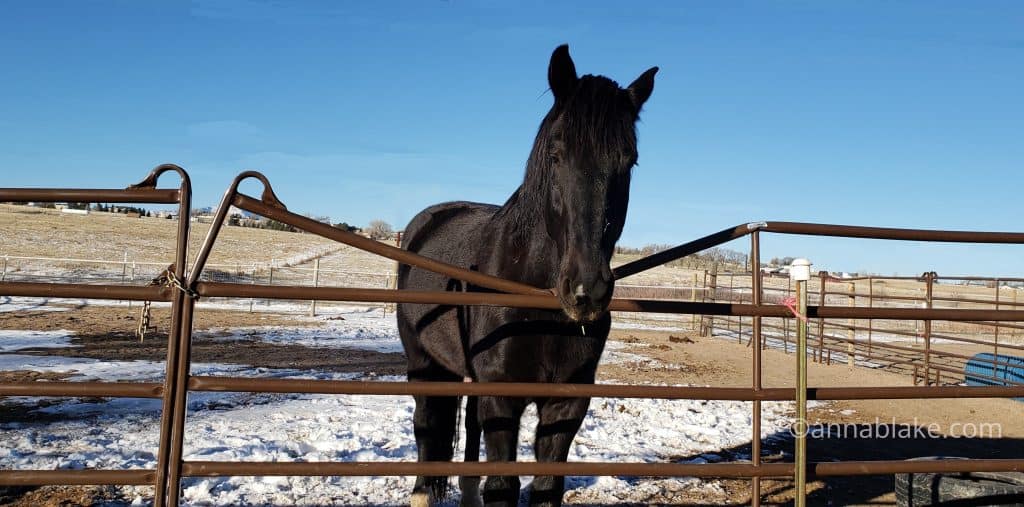 This is my fence panel. I lost count of the other's just like it, eight, I think. I find them this way, the top rail bent practically in half, edges collapsed. I hear no loud noises, there are no lumps or marks, I just come out to find one or two of the draft-cross geldings standing by them looking innocent. They think it's all my fault for isolating them in this cruel way for a few hours overnight. They play all day, share hay, nap within inches of each other, and then I do the unthinkable. Separate them when they party like frat boys.
I've also lost count of the number of requests from readers for my thoughts about keeping a single horse, too. I think people ask because they have a neighbor or a friend who doesn't understand or won't listen. Maybe they drive by a sad singleton. Last year, a horse appeared in a pasture of weeds down the road from us. Skinny, tall, and black, he was there with a big bale of hay and a tub of water. He gained weight but never really looked any better. One day he was gone and I'm sorry to say I was relieved.
My research included an article written by a vet who said owning a single horse was "acceptable." She's right, it doesn't kill them. The same search yielded a new article about prisons that claims, "Placing prisoners in solitary confinement is tantamount to torture and it needs to stop." Humans have been studying the negative psychological and physiological effects of solitary confinement on inmates since the 1830s but we still do it, every state and each prison. We know the mental damage caused by isolation. We aren't hoping for rehabilitation, we mean to punish prisoners as harshly as we can, even juveniles and people with mental illness.
In the horse world, we try to do our best. We love our horses and the excuses we have for keeping one in solitary confinement are mixed in with finances, convenience, and not understanding what it means. If their ribs don't show and their hooves are trimmed, it's easier to look past who horses were meant to be. After all, he isn't being overtly abused or on a slaughter truck.
If horses are allowed to have their own lives, beyond the part they play in our lives a couple of hours a day, we must truly accept and value what it means to be a horse, rather than anthropomorphize their reality into something convenient to us. Loving horses takes no special skill. Respecting them as sentient beings is a whole other thing.
To know a horse is to profoundly understand they are prey animals. Domestication doesn't change that.
A normal horse is never alone by choice. Horses naturally live in herds. There is safety, meaning the more sets of eyes watching for predators, giving more time to search for food, as well as time to lie down to rest, knowing others are on guard. They understand that individuals are more visible and vulnerable than a group. Prey animals crave safety in a chaotic world and work together for that goal.
Horses are also social animals, science has proven they are sentient with emotions.  They form family bonds and mourn change and loss. Foals run races, adults mutually groom, and elders stand, head nearly touching another's flank, passing hours in shared, peaceful company.
Humans need to be careful as we try to understand other species; we only have our own human perceptions to understand with, but that can't be taken to mean other species define things the same way we do. That said, I think the concept of a herd for a horse is synonymous with home, or in the best sense, family, as we understand it. In other words, the foundation of everything.
But because it flatters us to be in partnership with horses, we can never think we are herd-mates, any more than putting on a flamingo t-shirt makes us a big pink bird.
It is their instinct to be with horses. They need each other more than they need us, even if we feed them. They need each other even more than we need them. Make all the excuses you want, love them more than anything, but they can tell we aren't horses.
What does isolation do? Horses can become emotionally numb, experiencing anxiety and depression. Some will remain stoic because a prey animal that shows weakness will stand out to predators. So, they pose with dull eyes, bored into a stupor. Of course, they appear happy to see humans, but for all the wrong reasons.
Some horses stereotype; a stereotype is a dysfunctional behavior based on a natural behavior that's become distorted by stress, to become a self-soothing action. It could be fence pacing or cribbing or weaving. Physical issues follow emotional issues, including chronic tension, lameness, and of course, ulcers.
How often do we look at a horse's behavior and think training is needed rather than hearing their call for help? How often do we fight with a horse about separation anxiety, (their unwillingness to leave the herd,) because we think we deserve something for the hay we buy? Training methods will never replace a horse's need for a herd. The best we can hope for is to create a confident horse willing to trust us for a while, but if there is no herd waiting in the background, it will crumble.
I know the challenge of what horses cost, the commitment needed to own even one. Is seeing that horse out the window worth the price he pays? Especially when the world is full of foster horses who need homes and affordable boarding facilities with the company your horse needs. Does seeing it from the horse's side help or hurt?
We humans are imperfect, doing our best, and yet some parents keep hungry children in cages. Certainly, that must carry more importance. We need to show each other more compassion and less personal judgment, but so much is also told about us by how we treat animals. Just because we aren't the very worst doesn't mean we can't do better, raise the standard, and in the process, lift humanity a bit as well.
Can you keep a single horse? It's legal. Solitary confinement doesn't kill them. Not all at once.
…
Anna Blake at Infinity Farm
Join us at The Barn, our online training group at annablake.com
Email [email protected] for clinic hosting details or to be added to the email list.