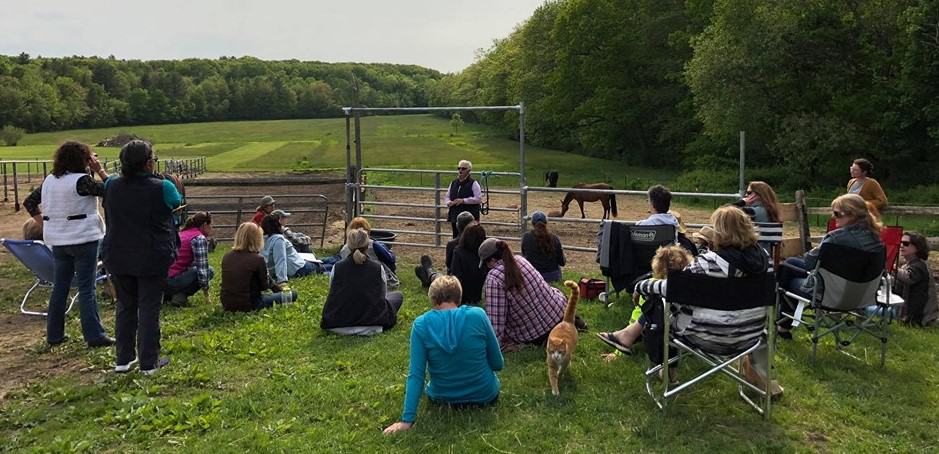 Relaxed & Forward On the Road
Concept Clinics such as Calming Signals or Affirmative Training, (and please scroll down for the complete list and descriptions.) are being booked now. I've redesigned my teaching approach to be more supportive of the horses. Clinics have 8-10 participants for 2 or 3 days, starting with a live presentation the night before. Contact me for pricing details.
All for One Clinic: For nonprofits with a herd, or a club with a group of horses to share, consider a Calming Signals Educational Groundwork Clinic with one price for all participants and hands-on learning, a format that I love.  This is a great group-learning opportunity, especially for continuing education, volunteers, or club members. We'll introduce Calming Signals and Affirmative Training techniques. Or plan a Nonprofit fundraiser. Minimum of 8 participants.
Add-ons: Private Lessons are available the day after a clinic, a minimum of a half-day. Consider adding a Writing Workshop. No experience is needed, just curiosity. Prepare to have fun and be inspired. Have you thought of journaling or writing articles or even a book?
Book Talks or Readings are always my pleasure to give. I'm also available for public speaking engagements and workshops on topics related to horses or writing.
Become a Barnie: Join us at The Relaxed &Forward Barn, an online membership group interested in Calming Signals and Anna's affirmative training methods, using podcasts, videos, Q&A, and live chats about all things equine. Start anytime, this is an ongoing group committed to learning, supporting each other, and doing our best for horses. The monthly subscription is $18.
Private Consultations with Anna: A telephone consultation or online lesson could give you a new perspective on a current challenge, as well as creative ideas going forward. Share a video of a ride or behavior; we can live chat or talk on the phone. Sessions are US $80. per hour or if you are a Barnie, $60 per hour.  CONTACT ME to schedule.
Online Learning: The Relaxed & Forward School offers intensive small-group online courses. It's been a much more intimate way of learning and sharing. More time to dive deeper, one-on-one input, and group support, not to mention how much horses prefer working from home. And since physical distancing is not the same as emotional distancing, the classes found that same sweet camaraderie that live clinics had... only classes last longer.
Online Lessons: Coaching with Anna is available. If you are curious about what you might need to work virtually, here is an explanation.
Virtual Clinic: Get a group of 8-10 people together and schedule a date with me. The clinic can happen over two full days/ or two-hour meetings over four consecutive weeks, with processing time in between and weekly videos. You choose the Concept Clinic for your group. We'll start with a meeting/presentation. Then participants have riding or groundwork sessions, using earbuds and their horse with a phone/camera on them, while others watch on a monitor. Lessons are conducted on Zoom, so there is a video of the lesson included. You'll need wifi where you're riding, but the rest is easy. Contact me for more details.
Concept Clinics: A different approach 
Concept Clinics give participants an opportunity to explore a related group of ideas with exercises designed to clarify and deepen the awareness and practice of fundamental principles of communication and training.*
Calming Signals. If you are standing next to your horse and he looks away, do you think he's distracted or even disrespectful? When your horse yawns, is he sleepy or bored? If he moves slowly, is he lazy?   Calming Signals is a concept clinic on the ground and/or mounted. We'll learn to read and respond to calming signals with special attention to comprehension (active listening, intention, and complacency). It's an equine-focused approach to haltering, leading exercises, and your body language. I'll say breathe a few thousand times. On day two, we move to the saddle and review calming signals while mounted, as well as ways of encouraging your horse to be a willing volunteer who likes the arena. We'll also spend time doing horse agility, where the conversation is the most fun.
Calming Signals for Humans: Do our bodies give horses cues that we might not be aware of? Do we give contradictory messages? This day is human-focused, honing a personal physical clarity in what we "hear" and what we "answer." Body language is our shared dialect with horses. In this clinic, we focus on how humans can best communicate using our own calming signals. This clinic may be added to a Calming Signal clinic or given with Calming Signals as a prerequisite.
The Fine Art of Saying Yes: Affirmative Training.  How many times have I heard people say that they didn't like the old domination training methods, but it was all they knew? It's time to update those old-school techniques. This clinic marries the brain science of how horses think and learn with affirmative training techniques. We'll deepen our understanding of Calming Signals from our horses, with a focus on encouraging confidence and connection for both horse and rider. This clinic is human-focused, training the rider a forward-thinking philosophy and nonviolent techniques that pair clarity and kindness, resulting in a responsive partnership. We prioritize the horse's welfare, especially young horses and those horses who have suffered harsh training in the past. Affirmative Training is the art of understanding each unique horse.
Dressage Rhymes with Massage. If your horse is young, sound, and has had all the advantages, it takes twenty minutes for the synovial fluid to warm his joints. And that same twenty minutes for you. Warm-up is by far the most important part of the ride for strength and a positive attitude. This is a relaxed and forward Concept Clinic, using warm-up methods designed to help a horse be physically and mentally responsive. We'll start with exercises to systematically warm up each part of your horse physically, as well as engage him mentally. When a horse is properly warmed up, he literally feels good and that creates a positive connection and a willingness to work. This clinic makes young horses steadier, midlife horses stronger, and elder horses more supple.
HORSES AND MEMOIR (a Calming Signals ground clinic.) Interested in Calming Signals and delving into a deeper understanding of horses? We'll start with a presentation on calming signals; the body language horses use to communicate their emotions. Listening to their non-verbal communication gives us a quiet moment to slow down and become consciously aware of the environment using all our senses. The goal is to sharpen our awareness of the body language of horses and humans, followed by cementing the experience by journaling about it. It's sensing the world with the in-the-moment presence of a sentient prey animal. This is a small group intensive, part horse clinic and part writing workshop with horse time in the morning and writing assignments each afternoon, along with group sharing and discussion interspersed.The host must have a small herd for passive groundwork. No horse experience is required. No writing experience is required. Can be an in-depth weekend event or a one-day add-on to another clinic.
Contact: Holding Hands with Horses. "Contact is like holding hands with someone you are so comfortable with, that there's an overlap where they begin and you end.   Good contact is moving forward through space without gravity or dependence on anything more concrete than the flow of movement that is oneness." Rather than conversations about which bit is kinder, we'll explore a lighter approach to kind contact on the reins. It's the most subtle and challenging work a rider can take on; learning to maintain a neutral seat and soft hands, moving in rhythm and balance with a horse. Learning to quiet our instinct to control a horse's face and instead, ride the entire horse, relaxed and forward. There is simply nothing more important to your horse. Can be an add-on to Dressage Rhymes with Massage.
Bend: Like the soft edge of a crescent moon, is relaxation and strength in fluidity. Bend refers to that sweet outside arc of the horse, encouraged by a body-to-body conversation. We'll address the idea of a 'stiff' side and a 'soft' side and do exercises to create supple balance in the horse and the rider. The clinic goes on to include light lateral work and riding strong circles, on a long rein as well as on contact. Can be an add-on to Dressage Rhymes with Massage.
Rhythm and Dance Clinic. Rhythm is the foundation of the Dressage training pyramid. Rhythmic movement promotes relaxation (walking, grazing, trotting) and bad reactions always include a loss of rhythm (spooking, bucking, bolting.) We'll use ground pole exercises to balance transitions, with a special focus on the use of seat and legs to encourage rhythm and alter stride within gaits, using half-halts and lengthenings. This clinic includes Riding to Music and finishes with a quadrille or group ride.
*I request dressage-legal bits or safe bit-less bridles, and helmets for riders. All saddle types are welcome.  Clinic day rates are discounted to non-profit groups. Contact me for more information about hosting or attending a clinic and please mention your location.
Relaxed &Forward Writing: An evening book talk can be added at no charge during a clinic. or you might add half or whole-day workshops are available. We'll dive into writing exercises and depending on participant requests, we may also cover topics like practical information about helpful writing software, methods to create a writing habit, and exploring wordplay- getting words to work for you. Whether your goal is journaling, writing for work, or starting a book project, this is a day of communication and inspiration.
Writing for Riders: The Passion of Horses and Words (Writing the Legend: The Story of your horse. Journaling about your riding as a method of deepening learning. Plus, fun writing exercises in the horse world.)

How to Write and Publish a Memoir When You're Nobody. Ever thought of writing a book? This is a how-to process for writing, editing, and publishing.)

Making Friends with Readers: How to use a blog to hone your writing skills, create a book, and build a reader base.
Anna Blake is a horse advocate, an international clinician, and the award-winning author of six books.  Stable Relation, a Memoir of One Woman's Spirited Journey Home by Way of the Barn, Relaxed & Forward: Relationship Advice from Your Horse, Barn Dance: Nickers, brays, bleats, howls, and quacks: Tales from the herd, Horse Prayers, Poems from the Prairie, Going Steady: More Relationship Advice from Your Horse, and Horse. Woman., Poems from Our Lives.
She blogs at Relaxed & Forward, a Horse/Life blog at annablake.com
The first step is to CONTACT ME to ask for more information, prices, and a calendar date.
Need more information?
I'm happy to consult, field questions, and listen to ideas.
Very limited travel in 2023, Auditors welcome at most locations. 
Hillsborough, NC, October 14-15, Clinic at Stonyrock Farm, Info: [email protected]
Worth/Ponder TX. Turning Point Equestrian, October 21-22, Info: Dani at [email protected]
A special thank you to the brilliant organizers who made 2022 a success. I couldn't do it without the hard work of putting the events together and I am grateful beyond words.
For more information, Contact Me.