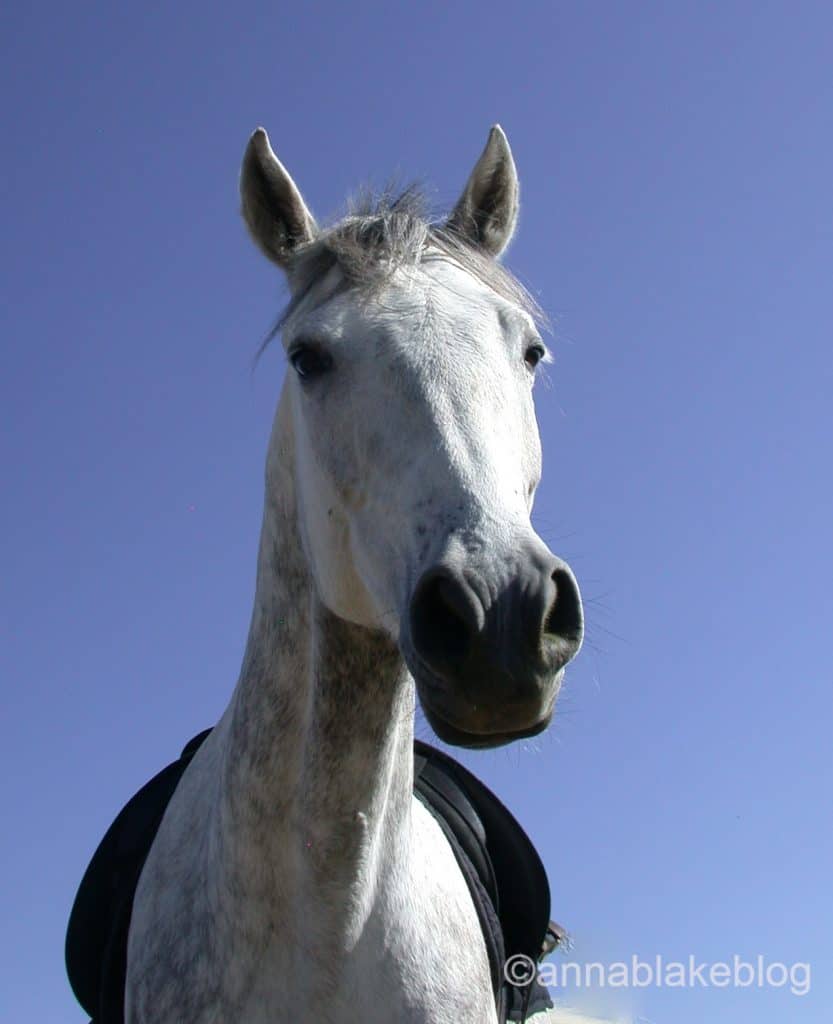 People talk to horses constantly. The words are unintelligible most of the time, to both us and the horse, but we chatter away, explaining what we are doing as we do it. "Now we'll clean your feet." Sometimes we are so uncomfortable with the quiet that we fill in their half of the conversation, too. We get busy with our mouths, usually because we have some level of anxiety.
We know horses don't literally talk. Sure, a horse is intelligent enough to learn some verbal commands, but is it the words or your body language that informs him? Humans have the luxury to live on autopilot most of the time, we probably use our brain more often than our senses to listen to the environment, thinking more and feeling less in the moment. It's a luxury that horses don't have.
When I talk about training, I use the word conversation because what is affirmative training but an exchange of ideas and thoughts?
I use the word "conversation" with a horse because of what it doesn't mean: Lecture. Soliloquy. Pontification. Sermonize.
It means we listen to the horse and give them a vote. It'll require some shifting of old paradigms and habits on both sides as we develop a new shared language, but it isn't going to be the Queen's English. The horse is fluent in the language of the body (calming signals) and awareness of the moment; that has to be where we meet them.
It'll feel exhausting at first, using our senses that are out of shape from computers telling us the weather instead of going outside. Exhausting in the things we try to not do which are now rote, like overusing our hands, and instead trusting our breath to be eloquent to answer a horse's questions.
And our enthusiasm to not dominate, our desire for a true partnership initially drives us to the other extreme. We listen so hard that we don't hold up our end of the conversation. We stand like lovestruck teenagers when we see their release. This new language is so exciting that we repeat the same thing so often that we bore our horses because it's what they have been saying all along.
We want peace so we give up every healthy boundary we ever had and act like old drinking buddies, leaning on them, laying down next to them, showing our perceived partnership by doing things we know are dangerous. We act brave, but how many of those behaviors end up disrespecting the horse, the real reason we get hurt?
The silent lurking elephant in the barn is about discipline and dominance versus total autonomy and general chaos. Where is the middle balance?
Return to the word conversation and try to interject common sense. I can be kind and generous. I can be a good listener and offer suggestions. On a good day, inspiration is possible. I might even wear pink once in a blue moon. But that doesn't mean I'll give you all my money and the keys to my truck.
Affirmative training doesn't mean there are no boundaries, but the most challenging boundaries are the ones we place on ourselves, to be consistent and kind while focusing on a level of awareness that is exhausting for us but totally normal for a horse. We have to be in constant communication with our own sympathetic nervous system by breathing. We have to be so aware of space that we constantly mitigate our position.
How many times do we discipline horses because we have disrespected their need for space? What will it take for us to understand that when so many of their calming signals confirm it? Could we discipline ourselves to a higher standard of awareness of both the horse's language and our own bodies?
I have a zero-tolerance policy for getting maimed, so I discipline myself. My horses agree that my real job is to buy hay. I have the right to give them a hard no. Because I don't overuse my voice, usually a sharp word is enough. The challenge in correcting horses is taking right back down, in an instant, to peaceful communication and not holding a grudge.
How many times have people defended using a harsh cue to discipline the horse, while whining that the horse came into their space first, it was his fault? Is that helpful? Have you been consistent in respecting him, showing with his language what is acceptable? What cues did you miss from your horse when it started? Did he come into your space because of insecurity or anxiety? The answer to that question is always yes and punishment only grows insecurity. If we get caught flat-footed and resort to old habits, then we can do better. The conversation can improve.
Train with Peaceful Persistence:
    Not aggressive.
    Not conceding. 
   Not emotional. 
Say you go out to halter your horse and he doesn't want to be caught. He might be not interested that day, or he might be a horse with a bad history with humans. Either way, we don't go in the house and pout because the horse doesn't love us. Our response has to lift to a higher level. We have to be more interesting than grass. If you didn't get a hard no, then the conversation continues and it's time to get creative. Discipline yourself to lay down your ego and emotions. Slow down and breathe. That's where trust grows.
How many time in the day do we react instinctually and how many times do we pause to think about our response. Can we give the horse a chance to do the same, and work towards both sides reacting less. Can we answer their anxiety with clean positive confidence?
Horses understand boundaries; their mothers taught them. They don't want domination but boundaries make us humans good partnership material; we can become a safe place in an unruly world.
…
Anna Blake at Infinity Farm
Want more? Join us at The Barn, our online training group with video sharing, audio blogs, live chats with Anna, and so much more. Or go to annablake.com to subscribe for email delivery of this blog, see the Clinic Schedule, or ask a question about the art and science of working with horses.