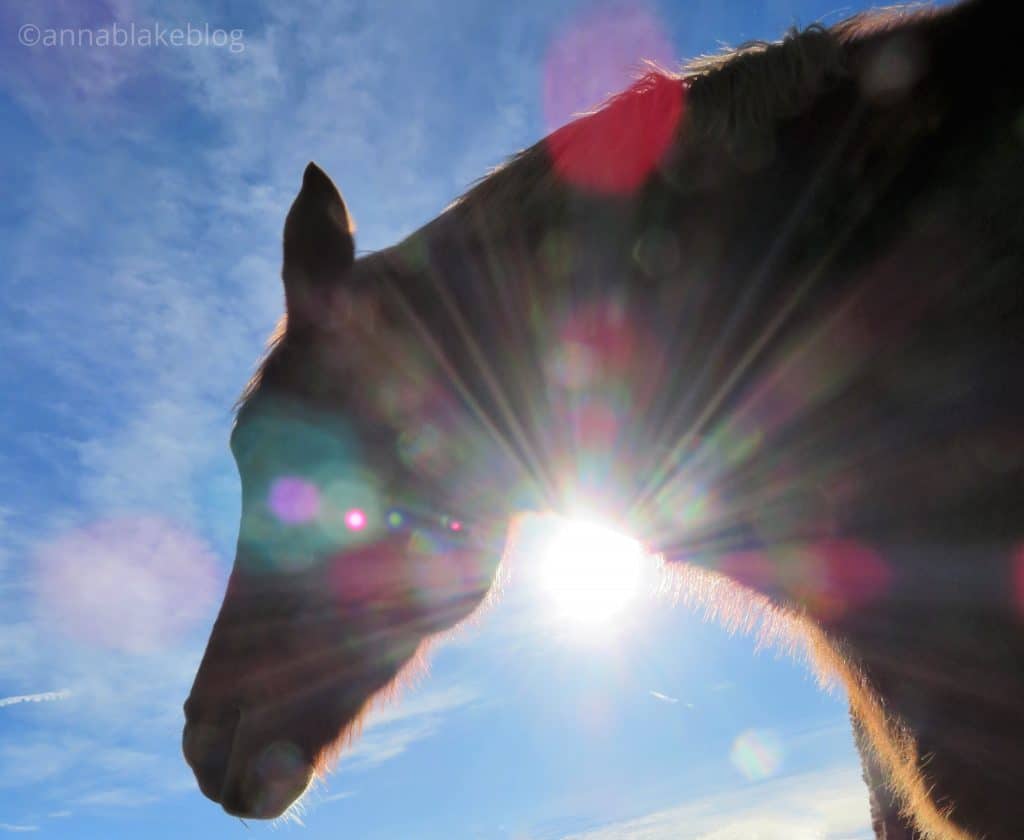 We would like consistent behavior from our horses. It would be good if they took each cue with light and immediate response. But some days we climb on and don't feel like doing much. We don't really have a plan, not that we care. We lollygag around slouching in the saddle and banging our legs on their flanks. No place to go and no hurry to get there.
Naturally, we want the horse to focus on us with respect. To pay attention to us and nothing else. Except we stop and talk to someone for 20 minutes and then snap that rope to correct him for being bored, or we bang the bit in their mouth because we turned in the saddle for some lame reason, or we quietly recite the grocery list and all the other errands that need doing as we mount up.
We really don't want our horses to spook. We say we don't bounce like we used to. (As if that isn't obvious.) But then we string together five expletives when we drop a bucket on our foot, we slam doors and we spook, reeling the reins in tight to our gut and our thighs snapped shut like a bear trap because the horse pricked up his ears.
Come to think of it, it would be good if horses were emotionally stable every day, especially the mares. We just want our horses to always be calm and sweet. But somedays we're late and in a hurry or frustrated from work or traffic or the danged bridle being twisted again. There are days we're flat out angry at something someone said or didn't say or we're just having one of those I-hate-everybody days. Other times we show up happy, just so happy, we bubble and giggle and tweak his nose. Somedays we are just so sad about the state of the world or being an age that is much older than we've ever been before, that we clutch them to our bosoms and declare that they are healing us, not seeing their eyes close to escape us. Most days, we push and pull and manhandle without being aware. Then we apologize, assuring them that we love them. Then in a while, we do it again, vowing to do a better job next time.
Do we recognize their calming signals as anxiety? How much have we gotten used to dogs air-licking or pacing or rolling belly-up, as if it were cute? Anxiety is easier to see in dogs but we've normalized it so much that their calls for help go unheard. With horses, the history of "showing them who's boss" still binds us.
About now, some smarty-pants railbird says you get the ride you deserve, with a derogatory sneer, but that isn't true. You're getting a better ride than you deserve. Most of us get a decent try from confused horses and dogs every day and barely notice.
Can you tell it's been a rough week? I'm teetering on a rant. Not because of overt cruelty, although there is no shortage of that. Blatant meanness has a blunt truth about it; it's not a dressed-up special event. Just ugly and embarrassingly obvious and easy to be outraged by.
Probably the worst thing you can say about us is that we don't recognize anxiety when we should. We minimize the importance of an animal's stress in favor of us running the show. Some days we take our time and do it right, but we don't trust that approach in other situations. It isn't wicked or evil, just passively selfish. Some days we believe in choice and other days it's inconvenient. We are never cruel, but we are consistently inconsistent.
Our love for horses never varies but our behavior does. Even that wouldn't matter if we didn't tell ourselves stories and have expectations. If we didn't take our horse's behavior more personally than we take our own. Best of all, if we didn't want to do better for horses, hoping to repay the tolerance they've shown us on our worst days.
Your horse is not a therapist, his life isn't a hobby. Your horse isn't even yours, but you might be fortunate enough to share a parallel path for a while. You might be blessed with a few years of providing for this creature and having an amazing opportunity to see the world through the eyes of another species. Truthfully, horses have enough on their minds just existing in their environment, without the useless baggage of our emotions and disappointments. They have hardwired survival traits that might seem silly to us as we watch them standing in a paddock but being a flight animal is a life or death proposition, regardless of fences or our best intentions.
Who horses are is not open to debate. Their emotions are similar to ours, but rather than being flattered, shouldn't we be more careful? We stumble along with unconscious habits and passive rudeness, all in the name of love, but some of us want to do better. Hooray for gratitude!
Your horse doesn't care how you feel. He remembers how you act.
Do you create anxiety, or relieve it? Can you be trusted? The one goal of every horse is to feel safe, and consistency is fundamental to their daily wellbeing. Are you trying to create a response or support your horse's confidence? Seen from the horse's standpoint, is anything more valuable for a flight animal than confidence, that easing of fear? What would it mean for a horse (or dog) to be able to trust that we would be the same person every day? In a chaotic world, we would be the dependable thing, the place of understanding once we put their emotions above our own. Horses would be drawn to us but first, we must show some self-discipline. They don't care about new saddle pads, but they do care about patience, personal space, and how we breathe. All the things that are free but require our focus.
Yes, we must change if we want a change in our horse. Our confidence in ourselves becomes more useful than a halter. Our affirmative responses are more valuable than any training technique. We can teach ourselves to laugh when we stub our toes, to say good boy when our horse's anxiety makes us think he's behaving badly. We value our horse's curiosity more than his obedience because we know a horse with an engaged mind is biddable. A confident horse is a willing horse. From this standpoint, there are no training issues, no bad horses, no mistakes. Just a conversation about safety, which should be our mutual goal, regardless of bounce-ability.
Humans have the respect thing backward. We're the ones who should stand out of their personal space. We're the ones who should respect horses. True love puts the other's welfare first.
…
Anna Blake for Relaxed & Forward 
Want more? Join us in The Barn. Subscribe to our online training group with training videos, interactive sharing, audio blogs, live-chats with Anna, and the most supportive group of like-minded horsepeople anywhere.
Ongoing courses in Calming Signals, Affirmative Training, Fundamentals of Authentic Dressage, and Back in the Saddle: a Comeback Conversation, as well as virtual clinics, are taught at The Barn School, where I also host our infamous Happy Hour. Everyone's welcome.
Visit annablake.com to find over a thousand archived blogs, purchase signed books, schedule a live consultation or lesson, subscribe for email delivery of this blog, or ask a question about the art and science of working with horses.
Affirmative training is the fine art of saying yes.