If my horses could see the big picture, they'd still say my job is hay. They have not read one of these blogs over the last dozen years or attended any of my clinics. They don't care about how I brilliantly jabber on. It's the hay.
Boarded or at home, that's what your horses care about, too. Not the inner fantasy of the person who throws the hay. The actual hay. Yes, hay prices are higher than ever, there's a drought in the West, and fuel costs are outrageous, but none of that matters because horses don't know what "buy" is. Just hay.
In hushed moments, we know that is our sacred promise to horses. We buy their hay. I was sternly corrected for these words, so I'll double down and be more clear. Call "buying hay" the tip of the financial and emotional iceberg, call it an abbreviation for the ways we alter our lives for horses, for the love and commitment that we offer freely. It's the base level, the easy task, cheaper than the list of pros we hire for their care, but it stands in front of the rest… if you ask horses. We're romantic; horses are pragmatic. Hay.
Can you tell I'm winding up to talk about safety? I know it's boring for some and preaching to the choir for others, but it's the annual reminder. Maybe one more somewhat repetitive essay will push someone over the line, and they'll become a believer. Maybe hearing it from a different angle will encourage someone to comment more wisely on social media. This time I will try to strike a note of equine pragmatism. I continue-
It takes a certain amount of courage served-up with the hay. Horses are huge, their legs are hardwired into their amygdala. Flight! Their reaction time is seven times quicker and their senses are each better than ours. They react to things we don't know exist and we can't outsmart them. Because horses can sense danger and panic as quick as a sneeze, we are obliged to share a corner of that fear but also develop confidence.
Our confidence is theirs, as theirs is ours. We hand it back and forth, depending on who spooks first and who manages to start breathing again. And you may have lofty ideals about your connection, your awareness, or your experience, but the horse will always think it's about hay. Eating for life or eating for self-soothing. Horses eat pretty much around the clock, so yes. Hay is survival. Hay is the prize. It should feel a bit humbling and a bit practical. Admit it, you love to listen to them chewing.
Still, we wrestle with our pesky frontal lobe that says look at the bright shiny thing, or get me a photo of our profound connection, or safety is boring. We like to show off.
I confess, showing off is the best fun if it's the horse showing off. When I see someone standing on a horse's back, I know the horse isn't thrilled. When a line of kids is perched wither-to-rump to prove the horse is safe, the seller isn't knowledgeable. Or maybe the kids are included? Tell me how it benefits the horse if we lie down next to them. Is it a party trick? Of course, we know that horses are dangerous. Isn't that the point of showing off?
If that's true, then wearing a helmet in the age of social media must be totally brag-worthy. You risk the dangers of peer pressure to stay safe enough to buy hay. Hay is love. Hay is a promise. Hay is dependable beyond illness, injury, or age. Hay is forever.
Back in the day, farmers had large families and kids were sometimes lost to farm injuries. Also dirt bike crashes and horse accidents. It was tragic and sobering but on the high side, we didn't have social media. When did children become props for memes so people could take pictures of toddlers leading draft horses to post with a comment about 'starting 'em young'? Why do we put kids on fence posts in a circle of horses and then back away for the shot? How will you get to her if something ordinary happens and she is down under their hooves? Shame on you if you "like" photos of such dangerous situations. Are little girls expendable now?
Or maybe you don't get the requests for prayers and donations for medical care for children with brain injuries on the same pages. It's rude to connect the two but shouldn't kids on medial tubes scare us more than horses? I understand that parents want to brag about their barefoot kid cantering a young horse with the notion they will grow up together. I hope they do, but in 4-H or Pony Club with helmets rather than apart, one in a hospital bed and the other at auction.
Here's my problem. I'm a trainer who has lived long enough to have seen some horrible things. What I haven't seen, people have told me about in minute detail. My mind is haunted by descriptions of horrible things. People hire me to resolve issues that result from these horrible things. On a good day, it's my job to see all the horrible possibilities and put a smile on my face and do my job. I feel anxious for you and your horse. And I'm selfish. I can only take so much and a helmet cuts the chances of serious brain injury in half, math even I can understand. Those are great odds. Put your horse first; wear the helmet.
I require helmets at my clinics and I've written about them extensively, but lately, I was asked to write about vests, too. Yay. I love them as much as horses love hay. Please, consider a safety vest or an air vest. Even rodeo is coming around, but I'll let others take on the vest:
Indra says, "I wear one every ride. Even when the summer heat makes me want to leave it off. I figure if it might help it's worth wearing. The herd needs me." (She's right. Hay.)
Peggy says, "I ride in a vest every ride… and it paid for itself a thousand times over when Bella launched me last December. I landed with my neck protected. I got banged up but no serious injuries. Without the vest, I don't think I would have been so lucky." (Neither would Bella have been, because hay.)
The pros use safety vests and helmets and they are the closest to having a reason to be overconfident yet also smart enough to know coming off is inevitable. But what do they, or the national and international equestrian organizations, really know? Why listen to experts?
Okay, say you truly are the exception to the rule. Your horse doesn't eat.  Of course, serious riders wear safety gear but you're tough. You don't care, it's about tradition. You are opposed to change (although you have managed to adapt to a cell phone.) Besides, you don't do what the pros do, maybe you "only" trail ride. No jumping and really, your horse is old and seriously lazy. He is as bombproof as a horse can be.
The problem is that we have it mixed up. Humans are the ones who aren't bombproof.
…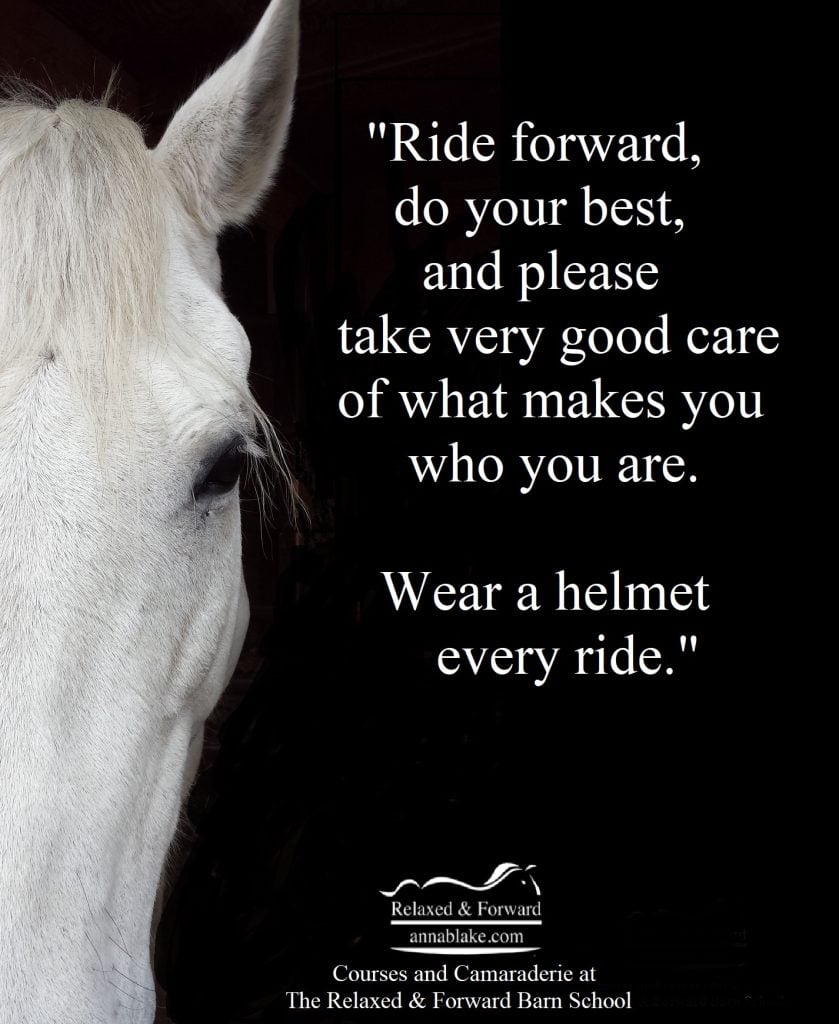 Please read this current list of statistics on horse-related TBIs. https://horsesonly.com/horse-riding-accidents/
…
Anna Blake, Relaxed & Forward
Want more? Become a "Barnie." Subscribe to our online training group with affirmative demonstration videos, audio blogs, daily quotes, free participation in "group lessons", and live chats with Anna. Become part of the most supportive group of like-minded horsepeople anywhere.
Anna teaches ongoing courses like Calming Signals, Affirmative Training, and more at The Barn School, as well as virtual clinics and our infamous Happy Hour. Everyone's welcome.
Visit annablake.com to find archived blogs, purchase signed books, schedule a live consultation, subscribe for email delivery of this blog, or ask a question about the art and science of working with horses.
Affirmative training is the fine art of saying yes.