Our T'ai Chi master told us to drop our weight? I was barely legal and my fledgling art career was doing so well that I didn't own a car. The class met in a church gym, he stood in front with his back to us and the small class mimicked his slow-motion movements. He told us to root deep to the earth, shifting our weight a pound at a time to one foot to release the other for a conscious step. I was hooked, totally consumed with T'ai Chi's beauty and quiet power. Pretty soon I was practicing shifting my weight at bus stops and while cooking my dinner. T'ai Chi was perfect for a fidgety introvert. T'ai Chi defined my life, two nights a week and Sundays in the park. I'm that sort who teeters toward the fanatic and I progressed quickly, eventually teaching. Besides, I didn't have a horse. 
Looking back, I think it was the first time I ever met the inside of my body. I knew kids who grew up in sports or dance and had a natural athleticism or a physical awareness that was foreign to me. All I did was run around like a headless chicken, writing emotional poetry while being distraught about life. In other words, I was attracted to Eastern Philosophy and activity for the same reason most people were back then. I was missing something I couldn't name, but there was a thing that happened when I felt my feet on the ground, when I focused on what we called our tan t'ien, our energy center, and followed my breath. Finding the ground let me quiet my mind. 
Eventually, I was able to buy a horse and stopped T'ai Chi classes, but it isn't any easier to give up T'ai Chi than it is horses. Chinese say that in the beginning you must call yourself to practice the art but soon the practice calls you. Even now, my sword is in my writing studio in case I need to stop thinking. I consciously shift my weight to focus while giving riding lessons. I teach Push Hands as a rhythmic way of understanding rein contact. After all, isn't dressage a kind of mounted T'ai Chi? 
In the horse world, the closest we come to talking about being grounded is telling stories about unplanned dismounts. And boy howdy, do we tell stories. We fill the silence with words and noise and emotions. Worse, our hands get busier with each word, more nervous when it's quiet. We lift our hands as high as our shoulders as if horses were blind. We sing, we chatter, we cajole. We talk to our horses to make ourselves breathe, to make ourselves less nervous, to encourage ourselves onward. We think the horse likes us to talk but it calms us more than them. 
If the horse has something to say, it's hard to get a word in edgewise. There is a disconnect. Our chatter exists in our over-active, well-oiled frontal lobes. Horses don't have that same anatomy. While we're running laps in memory or dreams or composing grocery lists, the horse is feeling the earth, the wind, sensing movements in the environment. The horse is listening to the world beyond words. We see a metallic wrapper blown against the fence. It startles us more than him, because of that pesky grocery list. As long as we calm ourselves, the horse doesn't care how.
Maybe you think it's your voice that cues your horse. They are certainly intelligent enough to learn words, but it was your feet that rule the moment. We can forget that because our feet are so far from our brains. Exhale and send your brain on down. 
Is your horse more interested in the busyness of the world than you? Quiet your mind by letting it rest in your feet. Feel your toes. Let your heel settle into the earth. Do you lunge your horse? Don't chase him. Stand still so he can find his balance. Is he a little fussy at the mounting block? Park your feet and become reliably still. Want to connect with your horse? Make your breath an anchor by inhaling into your toes and then trust the earth to send the message. The air is unstable. The earth is our connection with horses, it is trust in solid form.
It's true in the saddle, too. Have you forgotten? Ask a friend for a pony ride. Schedule a lunge lesson with a trainer. Climb on in a safe place like an arena and let your hands rest on your thighs or use a neckring. Look, mom, it's no-hands January.
Inhale as you swing your leg over your horse's back and then settle into the saddle. Check your thighs. If they're tight, you'll be a bit suspended over the saddle. Truly check because you'll feel unstable to your horse. Can you tell for sure? Connect your feet to the stirrups with a light tap. Feel your toes, putting your weight to the outside little toe. Does that release your knee a bit? Did your horse relax some? Is your toe sticking out far enough to catch on a fence post? Point it forward, please. You might have to remind yourself again soon, until the tight muscles release. Are you back in your brain thinking, wondering if you're doing it right, worrying that you are out of control? Put your mind back in your feet, your thighs, your seat. A light tap to the stirrup, please.
Let the saddle hold you but carry some of your weight in your feet. Enough pressure in both stirrups to help your horse carry you. Feel your horse's movement ripple through your body. Surrender because, in order to lead, we first follow their movement. We don't oppose force. Wait, that's T'ai Chi (but it's also how to start an affirmative ride.) Your brain is begging you to come back and talk but trust your horse. Let him have his movement, let your seat follow. Your hands are screaming to grab, your brain feels deserted. Good, trust the part of you that connects, not your hand to the bit, but your seat to his back. Let your horse rock you in his stride. You'll never feel safe in a gallop if you don't trust this walk. How are your thighs? Are you deeper in the saddle, has your waist become fluid? A light tap of the stirrup, feel your little toe. Connect with the ground through your horse. 
A slight turn of your body, lead with your tan t'ien, your solar plexus. Think of it as a headlight that your horse moves in. Feel your knees as a flexible tunnel for your horse moving forward, your shoulders following. Ignore your twitchy fingers. Ride the inside of your horse. Halt by softening your seat to stillness and exhaling. Acknowledge your breath as an anchor to the ground for both of you. 
Crave the body-to-body conversation, in the saddle or on the ground, your tan t'ien to your horse's. It's the connection you can't name because it comes from the earth and not your brain. Feel unity, each of you autonomous, but partners in movement.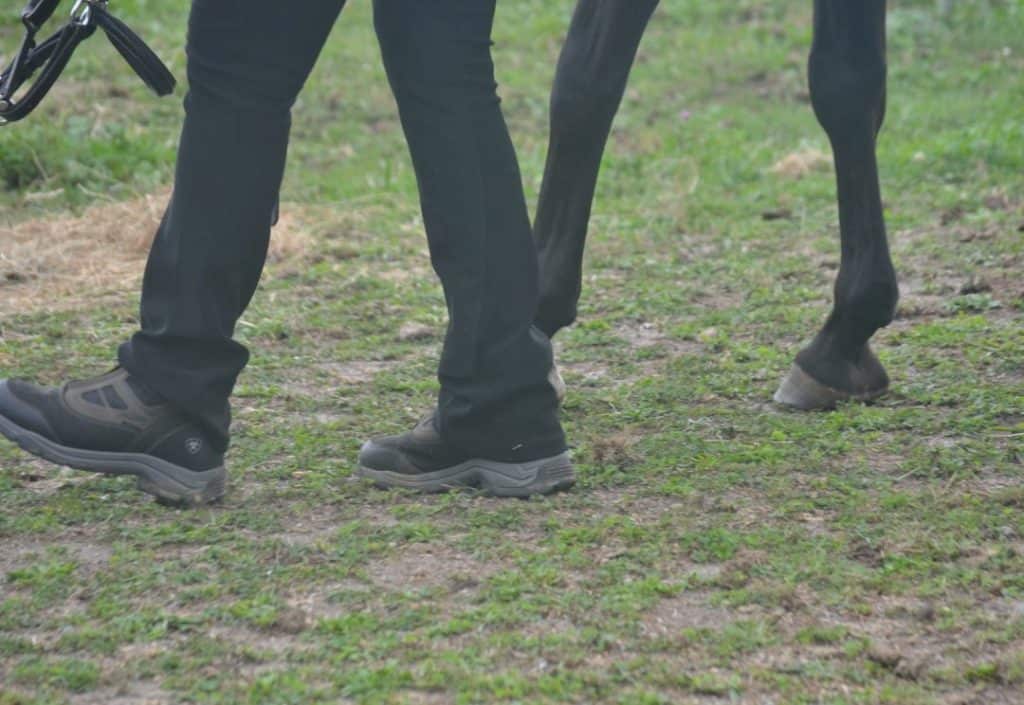 …
Anna Blake, Relaxed & Forward, now scheduling 2022 clinics and barn visits.
Want more? Become a "Barnie." Subscribe to our online training group with training videos, interactive sharing, audio blogs, live chats with Anna, and join the most supportive group of like-minded horsepeople anywhere.
Anna teaches ongoing courses like Calming Signals, Affirmative Training, and more at The Barn School, as well as virtual clinics and hosts our infamous Happy Hour. Everyone's welcome.
Visit annablake.com to find archived blogs, purchase signed books, schedule a live consultation, subscribe for email delivery of this blog, or ask a question about the art and science of working with horses.
Affirmative training is the fine art of saying yes.