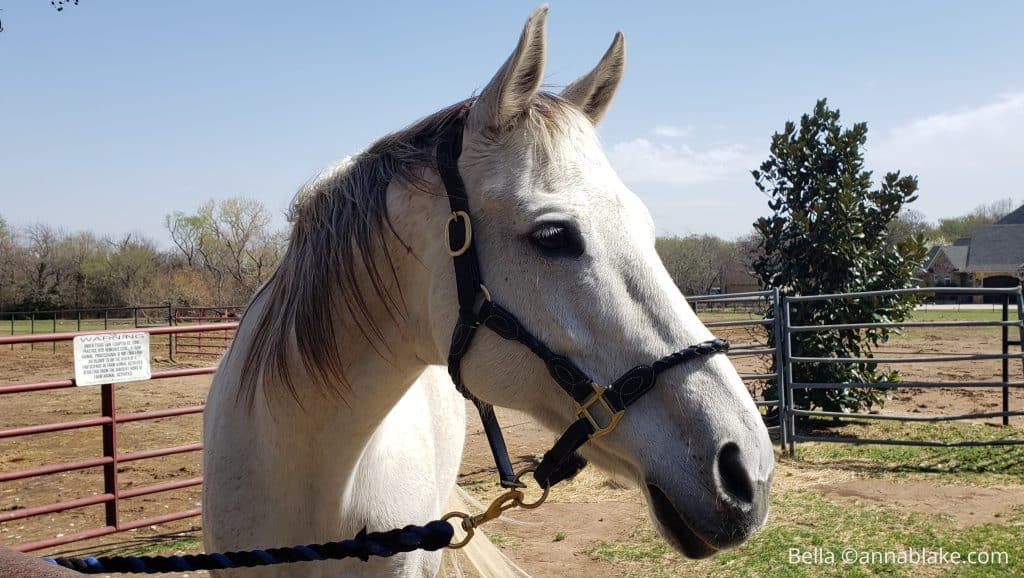 "Can Competition Horses be Trained Affirmatively?" she asked. I know why she asks. This rider has been trained to think that it's hard to be good enough, that the work is hard so you have to ask your horse in ways that are hard. She has seen trainers claim that force is justifiable to win, implying that those who don't win are losers who lollygag around doing nothing. Gasp. We're back in middle school and a bully has just threatened you. You pretend to ignore the bully, but if that ever worked, you wouldn't remember their name decades later.
Or maybe you say you hate competition and only want to learn more. So, you go to clinics with the fantasy (thanks, Virginia) that you arrive and the clinician congratulates you on perfection and has no advice for you. Not only do they refund your money but they give you all the money because you are so good. But in the gap between fantasy and reality, you still have to load your horse and on any given day, depending on your schedule as much as your horse, that can be hard. Landing in an unfamiliar environment, with horses and people you don't know is hard and you don't even know what kind of weird the clinician is yet. Maybe the clinic is at the barn where your horse lives, but there are strange trailers and new horses and a different energy today. There is no judge in the arena, but you have to groom and be ready at a specific time, knowing that the clinician will watch you closely. Wait! Isn't that what judges do at competitions?
How is a clinic easier than a horse show exactly? I have done both, competed at shows and attended clinics, and I can't tell the difference. Riders in either place have passion and are trying to learn and do their best. One place gives out ribbons.
Okay, you say, no competitions and no clinics. They are just too hard. But there is a new vet coming out. Or you trail ride with a friend. Or right on schedule, spring arrives and all horses go a little nuts but you take it personally. You care how your horse does. It isn't a competition but you care about the outcome. Then add in the things out of your control. Maybe you still feel guilty about the previous horse you were impatient with. Guilt about the horse you have now who still carries anxiety about the fear they felt in training as a young horse, before you owned him.
When we are finally ready to train, we must start by asking if this horse sound? Usually followed by the awareness that we can't really know, but if the calming signals (that feel like resistance) are because of pain, we need to take care of that. Anxiety in a rabbit hole, anyone? Even your bank account nods. On a difficult day, the entire horse world leaves you feeling like you're dog-paddling in a cesspool. What was the question again?
"Why is everything with horses so hard?" 
Give yourself a human calming signal. Breathe. Laugh in mock desperation. Or soften your eyes and look away in genuine desperation. Understand profoundly what it means to work with a flight animal who weighs more than you but has emotions similar to yours. There is nothing ordinary about what we do. There are no pushbutton horses or perfect humans. Dog-paddling is how we travel. It was never about competition. There is only one problem. We love horses and that makes everything a little hard.
Take another breath and think about the horses you've watched. Some skip and dance while others are tense. Some share seamless movement with their rider and others seem fearful. Some horses look like partners and some wring their tails in anger. Because every time a horse gets into trouble, fears his environment, or loses confidence, it's a call for help. Our response isn't by random accident; it's a choice and that's true in world competition or while picking out hooves in your own barn.
How did we even get to a point of honoring fear-based training? Who handed these haters the microphone and why are you listening?  Punishment is never the answer to a lack of confidence; it only adds doubt and anxiety. How can it be good training to act like we hate our horse? Isn't your horse smart enough to be confused by that?
It will always be easier to name-call and bully rather than stand tall and claim this less-than-perfect moment. Not to mention that was how most of us started with horses. We were taught to punish. Taught to not show weakness. How is denial partnership?
Peer pressure hasn't changed since middle school, but hopefully, we have. It's our job to find peace in the chaos of our horse's life. In a whirlwind of anxiety, we have to be that peace, and that is hard. Love always requires more courage so we train ourselves, against instinct, to call out the good in our horses even when the situation is hard. 
As you progress as an affirmative rider, take pride in your stand, because it shows in your horse's eye and the softness between you. You'll be pushing the edge of your skill constantly. It might be harder to stay affirmative in challenging moments, so pause and breathe. Now is just when your horse needs it the most. Breathing is winning.
In the end, we have to make peace with competition because it was never about anyone else being good or bad. It's always been us fighting against the part of ourselves that says we aren't good enough. 
…
Anna Blake, Relaxed & Forward, now scheduling 2022 clinics and barn visits. Information here.
Want more? Become a "Barnie." Subscribe to our online training group with training videos, interactive sharing, audio blogs, live chats with Anna, and join the most supportive group of like-minded horsepeople anywhere.
Anna teaches ongoing courses like Calming Signals, Affirmative Training, and more at The Barn School, as well as virtual clinics and our infamous Happy Hour. Everyone's welcome.
Visit annablake.com to find archived blogs, purchase signed books, schedule a live consultation, subscribe for email delivery of this blog, or ask a question about the art and science of working with horses.
Affirmative training is the fine art of saying yes.