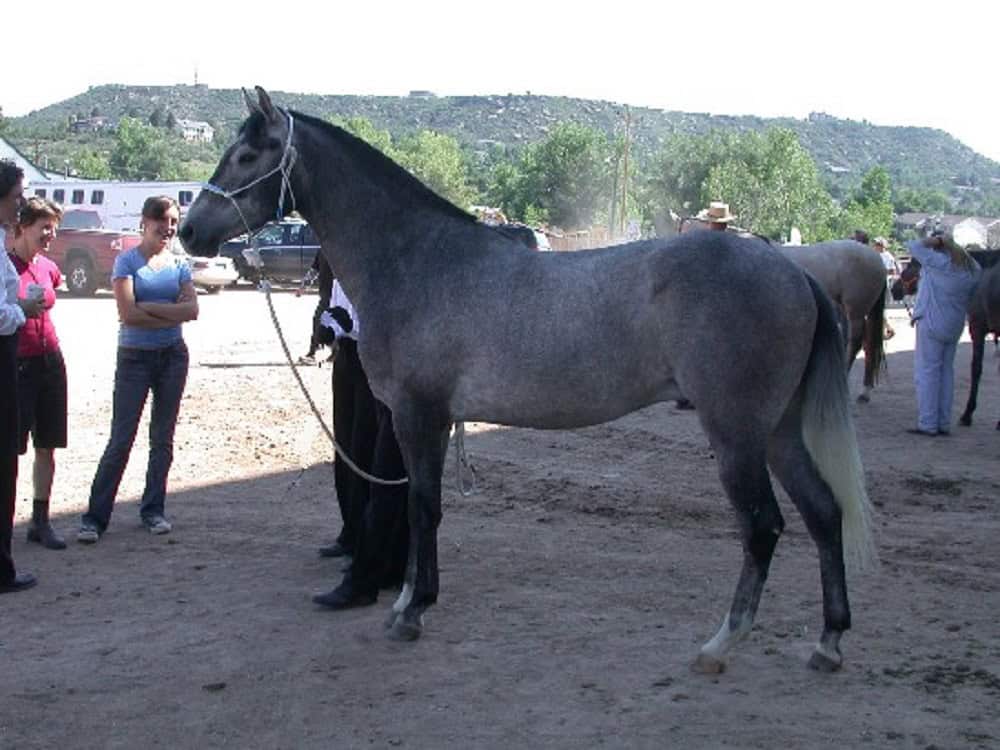 I get nostalgic for the days when I didn't know what I know now. I miss the bittersweet, marginally innocent time.  My sense of humor was better then, too. It was 2005 and not many of us knew. We surely do now.
Nube (rhymes with eBay) was two years old. A tall Iberian Sporthorse gelding who was perpetually curious and as agile as a cat. He was the kind of youngster so willing to learn that I went extra slowly. He was lighthearted, not reactive or overly stoic. It felt like we thought the same thing at the same time, so easy to work with.
We were at the vet for a routine visit, when the vet asked me if Nube could be a demo horse. The practice had just purchased a scope and planned a demonstration event at a local arena to introduce scoping for ulcers. They said don't worry, they already had horses who did have ulcers. Nube would be the one who didn't. They wanted a healthy stomach for comparison. I was flattered we were asked.
The day of the event came and as instructed, I withheld hay overnight so his stomach would be clear for the scope. Nube jumped into the trailer and we drove less than five miles to the facility. When we got there, friends who I hadn't seen in a while waved and called out. There was a jovial feeling in the crowd. Nube was precocious and well-behaved.
He was the first horse I started from scratch in my new training method that I would eventually call Affirmative Training and he was the perfect representative. I handed his lead rope to the vet and went to sit in the stands and watch the demonstration.
Nube walked on a slack lead with the vet, to the middle of the arena. He looked around with soft eyes, interested ears, and a quiet young confidence. As the vet introduced him and began, there was some banter and Nube seemed in on the jokes and was so engaged that the vet was clearly taken with him. Nube entered a set of stocks and was given light sedation for the scoping.
The vets explained how the scope worked and gave a little bit of information about ulcers, knowing that they had ulcer horses coming in after Nube. The scope went in and on the screen, all of us saw too big ulcers. They looked like puss-filled open wounds; like huge canker sores. They were undeniably painful to see, and the vet didn't hide his shock. It was obvious the demo was not going as planned and he was working that out in real-time.
In the years since I've reminisced about that day with the vet. He said it's a story they tell in the practice. Their version is funnier than mine.
I was devastated. It was like getting a failing grade before starting school. It's hard to deny the visual but I couldn't believe it. I was well-educated in horses and keenly observant. But as much as I wanted to say it wasn't true, that Nube didn't fit the list, somehow he did. I was filled with shame for smiling when we came in. Shame that I had missed such a serious thing or worse yet, that I had caused them.
Previously, I'd known two horses with Equine Gastric Ulcer Syndrome (EGUS). One died of colic and the necropsy showed them, and the other was a Thoroughbred off the track. But I was about to learn so much more, as the world did the same.
I began doing research, asking hard questions, and reading everything I could find. The options for care and treatment in those days were very limited. Over the next couple of years, I ran courses of  GastroGard, thirty days and almost a thousand dollars, and the ulcers returned on day thirty-one.
I found articles that gave the same simple list of causes. Being fed two flakes morning and night and being left without forage the rest of the time was at the top of the list. Horses that lived in stalls were more prone to have ulcers. Horses on the track and performance horses were more prone to ulcers. Nube didn't fit the profile in any way I could find. I learned in hindsight many of the horses in his bloodline had it. But then all bloodlines do.
I read dozens of studies on the topic but the statistic that stuck the most was that of the horse who were scoped and diagnosed with ulcers, half show no symptoms, according to owners. Or did the owners not recognize the symptoms, as I hadn't?
I focused on that, I had to make up for my failure. I learned to read pain symptoms, especially the Calming Signals related to gastric pain. I am very skilled and it gives me no joy. It is necessary knowledge for a trainer. Too many horses that people think have training issues are in pain and I end up diagnosing ulcers as frequently as vets do.
It still didn't make sense, because ulcers don't make sense. Horses are so much more frail than we want to believe. Twenty years later, vets say they don't really think about curing ulcers so much as managing them. The only good news is that the options for management are so much better.
Would I trade the experience of learning about ulcers, and going on to help so many client horses since then, for having Nube ulcer-free? I don't ask myself. It was not a choice I had.
I have a sad brag: I can spot ulcer symptoms very easily, even in stoic horses. They do ask us for help with pain but too often we misread the message, as I misread it all those years ago with Nube. It's for him that I deliver lousy bad news.
Every week someone tells me about behaviors their horse does that they read as any of a list of flattering things. It's a total misunderstanding of their horse. The horse has ulcers. It isn't my business and it's no fun to put people in that place of shame that I know so well. But I'm a horse advocate. I put horses first.
So I ask that question in the least confrontational way I can. "Are you certain your horse is not in pain?" They assure me their horse is perfectly fine. My heart splits a bit farther. I am most nostalgic for a time that I felt that confidence about any horse.
Then it's up to the owner. It's not my job to be the Ulcer Police. It's your job.
…
I was able to regain my identity on my Facebook business pages, but social media isn't reliable. If you appreciate what I do, please Subscribe to the blog or come join us at The Barn School.
[Please don't miss a week: Subscribe here]
Anna Blake, Relaxed & Forward
Want more? Become a "Barnie." Subscribe to our online training group with affirmative demonstration videos, audio blogs, daily quotes, free participation in "group lessons", and live chats with Anna. Become part of the most supportive group of like-minded horsepeople anywhere.
Anna teaches ongoing courses like Calming Signals, Affirmative Training, and more at The Barn School, as well as virtual clinics and our infamous Happy Hour. Everyone's welcome.
Visit annablake.com to find archived blogs, purchase signed books, schedule a live consultation, subscribe for email delivery of this blog, or ask a question about the art and science of working with horses.
Affirmative training is the fine art of saying yes.